Gospel of Matthew 3
About that time, John the Baptist first appeared, proclaiming in the wilderness of Judea: 2 "Repent, for the kingdom of heaven is at hand. 3 This is he who was spoken of by the prophet Isaiah, when he says: 'The voice of one crying aloud in the wilderness: Make ready the way of the Lord, make his paths straight.'"
4 John wore clothing made of camels' hair, with a belt of leather round his waist, and his food was locusts and wild honey. 5 At that time Jerusalem and all Judea, as well as the whole district of the Jordan, went out to him, 6 And were baptized by him in the river Jordan, confessing their sins.
7 When, however, John saw many of the Pharisees and Sadducees coming to receive his baptism, he said to them: "You brood of vipers! Who has prompted you to seek refuge from the coming judgment? 8 Let your life then prove your repentance; 9 And do not think that you can say among yourselves, 'Abraham is our ancestor,' for I tell you that out of these very stones God is able to raise descendants for Abraham!
10 Already the axe is lying at the root of the trees. Therefore every tree that fails to bear good fruit will be cut down and thrown into the fire. 11 I indeed baptize you with water to teach repentance; but He who is coming after me is more powerful than I, and I am not fit even to carry his sandals. He will baptize you with the Holy Spirit and with fire. 12 His winnowing–fan is in his hand, and he will clear his threshing–floor and store his grain in the barn, but the chaff he will burn with inextinguishable fire."
13 Then Jesus came from Galilee to the Jordan to see John and be baptized by him. 14 But John tried to prevent him. "It is I," he said, "who need to be baptized by you; and yet you come to me?" 15 "Suffer it be so for the present," Jesus answered, "since it is fitting for us thus to satisfy every claim of religion." Upon hearing this, John consented.
16 After the baptism of Jesus, and just as he came up from the water, the heavens opened and he saw the Spirit of God descending, like a dove, and settled upon him, 17 And from the heavens there came a voice which said: "This is my beloved Son in whom I delight."
—–
To read Chapter 4 of the Gospel of Matthew, please go to: I Will Make You Fishers of Men
Gain fresh insight into the Lord's Prayer. Read our free online book The Lord's Prayer for Daily Life. The prayer's hidden teachings will enrich and inspire you. Click the following link to begin reading the Living Hour Book now: The Lord's Prayer.
Browse the entire Gospel of Matthew here: Gospel of Matthew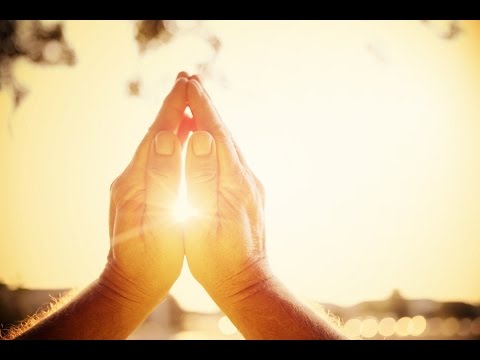 Chapter 1
Our Father who art in
heaven…
(Understanding Our Relationship to God)
The Lord's Prayer begins with an idea that seems easy enough to understand. Jesus wants to establish God as our heavenly Father, and we as his children. What we often fail to notice though is what Jesus doesn't say—yet what he leaves out is just as important. What Jesus doesn't say is that we should pray to God as "My Father." We are taught to address him as "Our Father" because prayer is not about individualism. It is not a private wish factory,1 churning out favors so that we can escape the hardships of life. Its purpose is to bring us together:2 to bring unity to our relationship with God and his creation.3
But why does Jesus describe God as a father figure? Why not "Our Mother" or "Our Creator"? Or why not just say "Our God"? Before trying to answer this, we need to recognize that our lives are defined by our relationships: the good and the bad. The roads we've taken have been paved by the arguments, joys, sadness, and desires we've shared with our family and friends. These roads though frequently do not lead to Christ or the kingdom of God.4 So Jesus demands that we tear them up.
He challenges us to hate our fathers, mothers, brothers, and sisters, and abandon the life we've come to know.5 It's an alarming request. If a preacher ordered his followers to do that today, we would call him a cult leader or religious crackpot. So what are we to make of this demand?
It's doubtful that early Christians manufactured this teaching, since it directly opposes the Mosaic law of honoring thy parents. Yet the message seems to clearly contradict Christ's gospel of love.6 Why are we to love our neighbors as ourselves but then hate our families? Let's first step back for a moment and consider Jesus's larger teaching methods. After all, this isn't the only time in the Gospels that he makes demands that seem outlandish or unrealistic. For example, how many of us are really prepared to sell our possessions and give everything to the poor?7
As a spiritual teacher, Jesus had a keen understanding of human nature and the mind. He knew that most of his followers lived hopelessly one sided lives—their attachments to material things and family always seeking primacy. It is no different with us today. So to break these attachments, Jesus plays a clever psychological game. He demands our exact opposite behavior: in other words, hating our parents (while loving God alone); and abandoning our worldly goods (while earning treasures in heaven).
But we have to remember that this is only a temporary mind game. Jesus doesn't expect us to turn our backs on our families forever or take vows of abject poverty. His hope is that these harsh commands will serve as an internal baptism of fire.8 And that as the flames rise up, they will be doused with the living water of the Holy Spirit,9 so that we will emerge from the ashes as harmonious new creations—instinctively knowing what things to render Caesar and what things to render God.10
To bring this new being to term, Jesus couldn't refer to God simply as an abstraction. He had to make God tangible to us in a very human way—that is, as a parent. He also had to contend with Old Testament scripture. In matters related to "religion," Jesus knew a lighter touch was needed than that which he used when dealing with our earthly attachments. For example, even though he turns many Mosaic laws on their head, his ministry wouldn't have gotten very far had he gone around telling Israel to hate the prophets. He also couldn't ignore the wisdom contained in Jewish scripture.11
So Jesus hit upon an ingenious solution. He told his followers that…
The Lord's Prayer. To continue reading, click on page 2 at the bottom.
Chapter 8
And forgive us our trespasses…

(Removing Our Hindrances Part II)

We've just described our journey toward a life in Christ as a rising. But the act of "rising" (such as rising above petty arguments and concerns) can sometimes get us into trouble, especially we Christians. The reason is that when we rise toward our divinity, we often look down on others with a misguided sense of superiority.1 Jesus condones none of that. He knocks us off our pedestals by insisting that we wash the feet of others if we are to have any part of him.2
To keep us grounded Jesus also teaches that our rebirth in Christ is owed to both spirit and water.3 This lesson is one that's largely been forgotten. Most Christians today see water simply as an accoutrement to the ritual of baptism, forgetting that the performance of rituals was something that Jesus only grudgingly accepted—for he knew how often they become codified into new forms of idolatry.
We can see such idolatry in the way the Pharisees rigidly held to their laws of the Sabbath.4 When it came to baptism, Jesus saw it as something which needed to be done for the sake of the community, rather than for himself—telling John the Baptist they must suffer the task so as to "satisfy every claim of religion."5 In other words, Jesus allowed himself to be baptized to fulfill the religious expectations of Israel, so that their minds would remain open to receiving the gospel of Christ.
That the heavens are said to have literally opened up during Jesus's baptism, with the Holy Spirit descending on his head like a dove,6 does not mean that we are magically turned into Christians during this ritual. Instead, these metaphors are used to illustrate water's essential role in our spiritual transformation.
To understand why Jesus says that our rebirth in Christ is owed to water, we must look at water as a parable, or character in a story. Water's narrative is that it likes to follow the path of least resistance. Likewise, the Holy Spirit seeks the path of least resistance as we remove the hindrances7 that block Christ from entering our lives.
Throughout Christendom this teaching has been driven under ground by a litany of ignoble wars, fire and brimstone preachers, and overzealous missionaries. But no person has ever been led to Christ through violence, threats, or intimidation, only by experiencing the Holy Spirit as it flows effortlessly from the souls of others.
How easily we forget Jesus's admonition to turn the other cheek; to not resist wrongs; to give our possessions to those who want to sue us; and walk two miles with those who compel us to go but one.8 In other words, to pass through this life like water.
Rather than accept the path of least resistance, we often strike out on the course of greatest resistance, confusing the lesser path with one of weakness. What we fail to recognize (but what Jesus was well aware of) is that water has another defining characteristic. It has the dammed up potential to flow forward with great force, when its hindrances are pulled away, forever altering the landscape below the break. Likewise, the Holy Spirit has tremendous power to transform lives, to create a holy current that will carry along others and make us true "fishers of men," As Jesus was walking along the shore of the Sea of Galilee, he saw two brothers—Simon, also known as Peter, and his brother Andrew—casting a net into the sea; for they were fishermen. 19 "Come and follow me," Jesus said, "and I will make you fishers of men." 20 The two men left their nets at once and followed him.9 if we but remove the obstacles in its path.
When we pray "forgive us our trespasses" we are beginning…
The Lord's Prayer. To continue reading, click on page 2 at the bottom.
Jesus tells us we cannot enter the kingdom of God unless we are born of both water and spirit1. Most of us can work out what Jesus means by born of spirit but born of water is a bit trickier. The literalist will just say, "Oh, he must mean baptism," and leave it at that. But Jesus never wanted us to leave his words just at that. He infused all of his teachings with many levels of meaning, discernible to those who have the ears ready to hear it.2
As well all know, Jesus liked using parables to teach. Sometimes these parables are explicit, such as in the parable of the prodigal son, and other times they are implicit. For Jesus, water is a natural element that is a parable in itself. For example, if we look at Jesus's life as depicted in the Gospels, we see that it echoes the flowing in and receding back of the ocean's tides. Jesus would repeatedly flow out into society to teach, spread the gospel of Christ, and share fellowship with his neighbors, only to recede back into himself, into lonely places to pray3.
If we are truly to realize Christ in its fullness, we should remember that both solitude and society are essential. The artist, poet, or musician who spends their life creating great works yet ignores regular fellowship with his community is as spiritually off-kilter as the good hearted soul who dedicates their life to helping others yet ignores that solitary inner dialogue which is essential to self-growth. Solitude and society are like a tidal river, each side continually feeding the other. Or in the eloquent words of the Spanish author and statesman Miguel de Unamuno:
Only in solitude do we find ourselves; and in finding ourselves, we find in ourselves all our brothers [and sisters] in solitude–in solitude and only in solitude can you know yourself as a neighbor, and as long as you do not know yourself as a neighbor, you can never hope to see in your neighbors other I's–It is solitude that makes [us] really sociable and human.
——
Please subscribe to The Living Hour's free Daily SBNR Motivationals by entering your email address into the "Opening the Small Gate" box in the right corner of this web page. This Progressive Christianity series is written for Unitarians, Agnostics, and all who seek a richer life.
To read about Teilhard de Chardin and the inherent goodness of the world, please go to: Having Faith in the World.
"In truth I tell you," exclaimed Jesus, "unless you are reborn, you cannot see the kingdom of God." "How can someone," asked Nicodemus, "be born when they are old? Can we be born a second time?" "In truth I tell you," answered Jesus, "unless you owe your birth to water and spirit, you cannot enter the kingdom of God." John 3:3-5 [↩]
"Nothing is hidden unless some day it comes to light, nor was anything ever kept hidden but that it should some day come into the light of day. 23 Let all who have ears to hear with hear." Mark 4:22-23 [↩]
The story about Jesus spread all the more, and great crowds came together to listen to him, and to be cured of their illnesses; But Jesus used to withdraw to lonely places and pray. Luke 5:15-16 [↩]
Gospel of Mark 10
On leaving that place, Jesus went into the district of Judea on the other side of the Jordan. Crowds gathered about him again; and again, as usual, he began teaching them. 2 Presently some Pharisees came up and, to test him, asked: "Has a husband the right to divorce his wife?" 3 "What direction did Moses give you?" replied Jesus. 4 "Moses," they said, "permitted a man to 'draw up in writing a notice of separation and divorce his wife.'"
5 "It was owing to the hardness of your hearts," said Jesus, "that Moses gave you this direction; 6 But, at the beginning of the Creation, God 'made them male and female.' 7 'For this reason a man shall leave his father and mother, 8 And the man and his wife shall become one;' so that they are no longer two, but one. 9 What God himself, then, has yoked together man must not separate."
10 When they were indoors, the disciples asked him again about this, 11 And he said: "Any one who divorces his wife and marries another woman is guilty of adultery against his wife; 12 And, if the woman divorces her husband and marries another man, she is guilty of adultery."
13 Some of the people were bringing little children to Jesus, for him to touch them; but the disciples found fault with those who had brought them. 14 When, however, Jesus saw this, he was indignant. "Let the little children come to me," he said, "do not hinder them; for it is to the childlike that the kingdom of God belongs. 15 I tell you, unless you receive the kingdom of God like a child, you will not enter it at all." 16 Then he folded the children in his arms, and, placing his hands on them, gave them his blessing.
17 And, as Jesus was resuming his journey, a man came running up to him, and threw himself on his knees before him. "Good Teacher," he asked, "what must I do to gain immortal life?" 18 "Why do you call me good?" answered Jesus. "No one is good but God. 19 You know the commandments: 'Do not kill. Do not commit adultery. Do not steal. Do not say what is false about others. Do not cheat. Honor thy father and thy mother.'" 20 "Teacher," he replied, "I have observed all these from my childhood."
21 Jesus looked at the man, and his heart went out to him, and he said: "There is still one thing wanting in you; go and sell all that you have, and give to the poor, and you shall heave wealth in heaven; then come and follow me." 22 But the man's face clouded at these words, and he went away distressed, for he had great possessions. 23 Then Jesus looked round, and said to his disciples: "How hard it will be for men of wealth to enter the kingdom of God!"
24 The disciples were amazed at his words. But Jesus said again: "My children, how hard a thing it is to enter the kingdom of God! 25 It is easier for a camel to get through a eye of a needle, than for a rich man to enter the kingdom of God." 26 "Then who can be saved?" they exclaimed in the greatest astonishment. 27 Jesus looked at them, and answered: "With men it is impossible, but not with God; for everything is possible with God."
Explore the 'Our Father' Prayer
To continue reading Chapter 11 of the Gospel of Mark, please click on page 2 below.
When Progressive Christians talk about How We Worship, the discussion usually centers on the goings-on inside the Church walls. While Sunday worship services have an important role to play, what matters even more is the worship that happens during the course of our every-day lives. This daily interactive worship with our immediate neighbors and our inner divinity (Christ) concerned Jesus more than the performance of rituals.
Washing the feet of others (i.e. humbling ourselves in service to our community) is the kind of worship activity that mattered most to Jesus–much more than public hallelujahs1 and orthodox practices such as recognizing the Sabbath or submitting oneself to formal baptism, a ritual which he told John that they must "suffer" for religion's sake2 not because God demands it–because, after all, rituals only point toward spiritual truths; they are not truths in and of themselves.
When we Christians focus too much on worship rituals in defining "how we worship" we run the risk of elevating the metaphor to God-ordained law, just as the Pharisees did with the Sabbath. Progressive Christian Reverends should begin using the power of the pulpit on Sunday mornings to begin talking more about the daily bread of worship: worship that includes being better stewards of the Garden; caring better for the bodies God has granted us; listening closer for the sound of the Holy Spirit as it struggles to make itself known within us and others; and attending more generously to the needs of family, friends, co-workers, and community as a whole.
"
"When you pray, you are not to behave as hypocrites do. They like to pray standing in the synagogues and at the corners of the streets, that they may be seen by men. There, I tell you, is their reward! – Matthew 6:5 [↩]
"Suffer it be so for the present," Jesus answered, "since it is fitting for us thus to satisfy every claim of religion." Matthew 3:15 [↩]