Gospel of Matthew 16
Here the Pharisees and Sadducees came up, and, to test Jesus, requested him to show them some sign from the heavens. 2 But Jesus answered: "In the evening you say: 'It will be fine weather, for the sky is as red as fire.' 3 But in the morning you say: 'Today it will be stormy, for the sky is as red as fire and threatening.' You learn to read the sky; yet you are unable to read the signs of the times! 4 A wicked and unfaithful generation is asking for a sign, but no sign shall be given it except the sign of Jonah." So he left them and went away.
5 Now the disciples had crossed to the opposite shore, and had forgotten to take any bread. 6 Presently Jesus said to them: "Take care and be on your guard against the leaven of the Pharisees and Sadducees." 7 But the disciples began talking among themselves about their having brought no bread.
8 On noticing this, Jesus said: "Why are you talking among yourselves about your being short of bread, O ye of little faith? 9 Do not you yet see, nor remember the five loaves for the five thousand, and how many baskets you took away? 10 Nor yet the seven loaves for the four thousand, and how many basketfuls you took away? 11 How is it that you do not see that I was not speaking about bread? Be on your guard against the leaven of the Pharisees and Sadducees." 12 Then they understood that he had told them to be on their guard, not against the leaven of bread, but against the teaching of the Pharisees and Sadducees.
13 On coming into the neighborhood of Caesarea Philippi, Jesus asked his disciples this question: "Who do people say that the Son of Man is?" 14 "Some say John the Baptist," they answered, "Others, however, say that he is Elijah, while others again say Jeremiah, or one of the prophets." 15 "But you," he said, "who do you say that I am?" 16 And to this Simon Peter answered: "You are the Christ, the Son of the Living God."17 "Blessed are you, Simon, Son of Jonah," Jesus replied. "For no human being has revealed this to you, but my Father who is in heaven.
18 Yes, and I say to you that your name is Peter and on this rock I will build my Church, and the powers of the place of death shall not prevail over it. 19 I will give you the keys of the kingdom of heaven. Whatever you forbid on earth will be held in heaven to be forbidden, and whatever you allow on earth will be held in heaven to be allowed." 20 Then he charged his disciples not to tell anyone that he was the Christ.
21 At that time Jesus Christ began to explain to his disciples that he must go to Jerusalem, and undergo much suffering at the hands of the councilors, and chief priests, and teachers of the law, and be put to death, and rise on the third day. 22 But Peter took Jesus aside, and began to rebuke him. "Master," he said, "please God that shall never be your fate!" 23 Jesus, however, turning to Peter, said: "Out of my way, Satan! You are a hindrance to me; for you look at things, not as God does, but as mankind does."
24 Then Jesus said to his disciples: "If anyone wishes to walk in my steps, let them renounce self, and take up their cross, and follow me. 25 For whoever wishes to save their lives will lose it, and whoever, for my sake, loses their lives shall find it. 26 What good will it do you to gain the whole world, if you forfeit your life? Or what will you give that is of equal value with your life? 27 For the Son of Man is to come in his Father's glory, with his angels, and then he 'will give to every one of you what your actions deserve.' 28 I tell you, some of those who are standing here will not know death till they have seen the Son of Man coming into his kingdom."
——
To read Chapter 17 of the Gospel of Matthew, please go to: Faith of a Mustard Seed
Gain fresh insight into the Lord's Prayer. Read our free online book The Lord's Prayer for Daily Life. The prayer's hidden teachings will enrich and inspire you. Click the following link to begin reading the Living Hour book now: The Lord's Prayer.
Browse the entire Gospel of Matthew here: Gospel of Matthew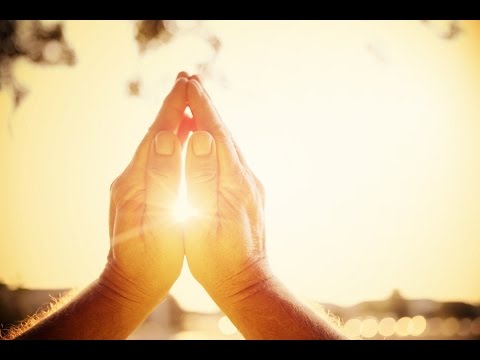 Chapter 1
Our Father who art in
heaven…
(Understanding Our Relationship to God)
The Lord's Prayer begins with an idea that seems easy enough to understand. Jesus wants to establish God as our heavenly Father, and we as his children. What we often fail to notice though is what Jesus doesn't say—yet what he leaves out is just as important. What Jesus doesn't say is that we should pray to God as "My Father." We are taught to address him as "Our Father" because prayer is not about individualism. It is not a private wish factory,1 churning out favors so that we can escape the hardships of life. Its purpose is to bring us together:2 to bring unity to our relationship with God and his creation.3
But why does Jesus describe God as a father figure? Why not "Our Mother" or "Our Creator"? Or why not just say "Our God"? Before trying to answer this, we need to recognize that our lives are defined by our relationships: the good and the bad. The roads we've taken have been paved by the arguments, joys, sadness, and desires we've shared with our family and friends. These roads though frequently do not lead to Christ or the kingdom of God.4 So Jesus demands that we tear them up.
He challenges us to hate our fathers, mothers, brothers, and sisters, and abandon the life we've come to know.5 It's an alarming request. If a preacher ordered his followers to do that today, we would call him a cult leader or religious crackpot. So what are we to make of this demand?
It's doubtful that early Christians manufactured this teaching, since it directly opposes the Mosaic law of honoring thy parents. Yet the message seems to clearly contradict Christ's gospel of love.6 Why are we to love our neighbors as ourselves but then hate our families? Let's first step back for a moment and consider Jesus's larger teaching methods. After all, this isn't the only time in the Gospels that he makes demands that seem outlandish or unrealistic. For example, how many of us are really prepared to sell our possessions and give everything to the poor?7
As a spiritual teacher, Jesus had a keen understanding of human nature and the mind. He knew that most of his followers lived hopelessly one sided lives—their attachments to material things and family always seeking primacy. It is no different with us today. So to break these attachments, Jesus plays a clever psychological game. He demands our exact opposite behavior: in other words, hating our parents (while loving God alone); and abandoning our worldly goods (while earning treasures in heaven).
But we have to remember that this is only a temporary mind game. Jesus doesn't expect us to turn our backs on our families forever or take vows of abject poverty. His hope is that these harsh commands will serve as an internal baptism of fire.8 And that as the flames rise up, they will be doused with the living water of the Holy Spirit,9 so that we will emerge from the ashes as harmonious new creations—instinctively knowing what things to render Caesar and what things to render God.10
To bring this new being to term, Jesus couldn't refer to God simply as an abstraction. He had to make God tangible to us in a very human way—that is, as a parent. He also had to contend with Old Testament scripture. In matters related to "religion," Jesus knew a lighter touch was needed than that which he used when dealing with our earthly attachments. For example, even though he turns many Mosaic laws on their head, his ministry wouldn't have gotten very far had he gone around telling Israel to hate the prophets. He also couldn't ignore the wisdom contained in Jewish scripture.11
So Jesus hit upon an ingenious solution. He told his followers that…
The Lord's Prayer. To continue reading, click on page 2 at the bottom.
Chapter 3
Thy kingdom come…
(Understanding God's Will)
With the second line of The Lord's Prayer, we arrive at the heart of the matter: God's kingdom. To understand how Jesus views his Father's kingdom, we first need to do some–thing that will seem strange. We must take all discussion of "Heaven" off the table. There will be no talk about heaven with a capital "H," the place we think we'll go to (if lucky) when we die. We're just not going to go there.
Why? Because as soon as we see heaven and hell as proper names, as specific places where rewards and punishments are meted out, the acceptance of Christ and all associated good works become petty acts of bribery. The afterlife must remain unknown, because the quality and strength of our faith, as well as the morality of our actions, depends on the mystery. For this reason, Jesus calls us to attend not to the dead1 (who are beyond our reach) but to those who are living and can feel our touch.
It is by nurturing the living God in ourselves and others that we make the Father's kingdom come.2 But what exactly is this kingdom if it is not what we normally take for heaven? The Gospels provide us with plenty of clues. But also many false leads. We need to be careful when applying our winnowing fans.
We should remember that the tribes who handed down the story of Jesus believed that a final day of judgment would occur during their own generation.3 That is why the apostles are so despondent after Jesus's death. They thought he was going to physically deliver Jerusalem from Roman authority, and then rule over an earthly kingdom.4 But Jesus had something different in mind. He wanted his disciples to view the Lord not as a King on High but as a secret spirit living in us all,5 with the power to reveal a kingdom already here.6
Therefore, we must sidestep any reference to the end–time theologies7 that were prevalent during Jesus's day, and which today have made best–selling authors of those who exploit fears of being left behind. After all, how is it that we will find ourselves raptured into the sky or see Jesus surfing down from the clouds,8 when God's kingdom, we are told, cannot be witnessed by the eye because it lives within us?9 The answer is, we can't, and won't. The gates of heaven are unlocked when our hearts and minds work in unison to discover God's Word,10 which is alive all around us.
That is why Jesus insists on talking in parables when describing the kingdom: because parables make us think. They don't dictate hard and fast answers. Jesus, like the river guide, leads us upstream to where the fish are, but insists that we make our own catch. The problem though is that we often feel stranded upriver without a pole!
But Jesus doesn't actually leave us…
The Lord's Prayer. To continue reading, click on page 2 at the bottom.
In this installment of our series dealing with the Founding Fathers–thoughts on Religion, God, and Progressive Christian living, we turn to John Dickinson, a less widely-known Father from Philadelphia who fought during the American Revolution and served as a Pennsylvania delegate to the First Continental Congress in 1774 and the U.S. Constitutional Convention of 1787. Dickinson is perhaps most famous for his declaration to King George III that Americans were resolved to die free men rather than live slaves.
The following passage is taken from John Dickinson's "Letters from a Farmer in Pennsylvania to the Inhabitants of the British Colonies." Here we find Dickinson, the former Progressive Christian President of Pennsylvania, writing eloquently on the freedom that is granted to us by God, and the vigilance that is required to retain that freedom. His comment regarding how our freedoms can be gradually usurped has special resonance for Americans today.
I am no further concerned in anything affecting America, than any one of you; and when liberty leaves it, I can quit it much more conveniently than most of you. But while that Divine Providence which gave me existence in a land of freedom permits my head to think, my lips to speak, and my hand to move, I shall highly and gratefully value this blessing I've received, and I'll take care that my silence and inactivity shall not give my implied assent to any act, degrading my brethren and myself from the birthright, wherewith heaven itself "hath made us free."
[With Regards to Great Britain] All artful rulers, who strive to extend their power beyond its just limits, try to give to their attempts as much semblance of legality as possible. Those who succeed them may then venture to go a little further; for each new encroachment will be strengthened by the former. In other words, that which is now supported by examples, grows old, and eventually become another example to support fresh usurpations.
A FREE people therefore can never be too quick in observing, nor too firm in opposing the beginnings of alterations in form or reality regarding those institutions established for their security. The first kind of alteration leads to the last. Yet, on the other hand, nothing is more certain than that our forms of liberty may be retained even when the literal substance is gone. In government, as well as in religion, "The letter killeth, but the spirit giveth life."1
—
Read the next article in our series on the Founding Fathers: Thomas Paine on Christianity & True Greatness
Gain fresh insight into the Lord's Prayer. Read our free online book The Lord's Prayer for Daily Life. The prayer's hidden teachings will enrich and inspire you. Click the following link to begin reading the Living Hour book now: The Lord's Prayer.
The above passage from John Dickinson was very lightly edited to make it easier to read by modern readers. [↩]
In our last motivational, we quoted the progressive Christian Leo Tolstoy as saying that we all can wake up to a real, happy, and peaceful life, as it exists in our consciences (God's Kingdom within), if we just make the moral effort. That was easy for him to say. While Tolstoy might have inspired Martin Luther King and Gandhi with such words, few of us think we are capable of the moral effort of a Gandhi or MLK. Can't we all just slide into Heaven by just accepting Jesus Christ as our savior?
Well, that would be nice. But as we talk about in The Lord's Prayer for Daily Life, Jesus never preached that kind lesson. He told us that we must carry our own crosses1 and seek to become as perfect as God in Heaven2. This, unfortunately, requires a little moral effort on our part.
But we don't have to get all intimidated by the situation. Moral effort is a lot like will power in that once we break it down, and see it just as a small series of individual choices (the things we choose to do and not to do each day), it becomes a whole lot easier to master. The issue here is not becoming a saint, but summoning the moral courage to make one right choice at this one moment in time. As they say, a thousand mile journey begins with a single step.
Moral effort is also made easier when we begin to reduce the clutter–in other words, removing all those things that are often nothing more than background noise to the soundtrack of our lives. This is especially true today, when computers, iPhones, and Blackberries serve up an endless stream of chatter to fill the empty spaces of our minutes and hours, but do little to bring clarity to our moral efforts: to those progressive Christian efforts which require both solitude and reflection, as well as the silence to ask the question, :In what way is what I am about do or say going to benefit others?"
—
Gain fresh insight into the Lord's Prayer. Read our free online book The Lord's Prayer for Daily Life. The prayer's hidden teachings will enrich and inspire you. Click the following link to begin reading the Living Hour book now: The Lord's Prayer.
Calling the people and his disciples to him, Jesus said: "If anyone wishes to walk in my steps, let them renounce self, take up their cross, and follow me. Mark -8:34 [↩]
"You, then, must become perfect, as your heavenly Father is perfect" – Matthew 5:48 [↩]
The book The Lords Prayer for Daily Life was written in a way that we hope appeals to both teens and adults, each group of readers being able to take certain lessons from it, or simply food for further thought. But what about the child?
The Lord's Prayer is the kind of prayer that children can learn at a young age, and it far surpasses that old standard: Now I lay me down to sleep; I pray the Lord my soul to keep. If I should die before I wake; I pray the Lord my soul to take–a prayer which makes children think that the Grim Reaper is going to descend upon them in their sleep.
To assist Progressive Christian parents we've taken inspiration from the material of The Living Hour book to write some thoughts on how you can teach the Lord's Prayer to your kids in a meaningful way, so that the act of childhood prayer goes beyond simple recitation. So, if you are asking how to teach the Lord's Prayer to children, here are our suggestions:
Our Father who art in heaven. Jesus begins the Lord's Prayer by letting us know that we are all in this together. God, the Father, is the father of all people. He is the father of people who we like and who we dislike; people who we agree with and who we disagree with; people who look like us and don't look like us; people who believe in him and who don't believe in him. By telling us that our one true Father is in heaven, Jesus is reminding as that we are all Sons and Daughters of God, and that our lives go on forever.
Hallowed be thy name. You know how when someone calls you by your name, it is like they think they know you? Well, Jesus doesn't tell us God's name in the Lord's Prayer because God is so big we can never know all of him. Jesus can describe God's name, though. He calls it hallowed. The word "hallowed" comes from the word "holy," which comes from the word "whole". Jesus wants us to see us and God always together as a whole being. We are not separate. We are one.
Thy kingdom come, thy will be done. Jesus teaches us in the Bible that the kingdom of God is within us and all around us right now. The problem is that we often don't see it. Because we don't see his kingdom, we end up making a lot of bad choices. When we make good choices though we are doing the will of God. We are making his kingdom come alive inside of us and in other people. That is why we should always try hard to make good choices and love each other.
On earth as it is in heaven. When people die they go to heaven, but when they live they go to heaven too. It is just that on earth, heaven (like the kingdom) is pretty hard to see sometimes. People hurt each other and do bad things. We get angry when we don't get what we want or when people are not nice to us. But Jesus wants us to know that if we can just let those bad feelings go and forgive people, the world can be a pretty wonderful place.
Give us this day our daily bread. We all need food to live, right? Well, in this part of the Lord's Prayer, Jesus also is talking about something that we need to live. But he is not talking about food. When Jesus taught he liked to use symbols. You know, like a smile is a symbol that you are happy. Jesus is using bread as a symbol of our experiences. Every day we have new experiences. These experiences can make us happy, sad, angry, or whatever. But we need them all, even if we don't like them all. Because every experience helps us grow.
And forgive us our trespasses, as we forgive those who trespass against us. We all makes mistakes. Sometimes we hurt the feelings of other people and don't even know it. In the Lord's Prayer, Jesus calls these things that we do wrong "trespasses". When we trespass the most important thing is to understand what we've done. Then to ask for forgiveness. If you forgive other people, then they are more likely to forgive you. It is no good to stay angry at someone. It doesn't feel good to be angry. When we get angry we just hurt ourselves. So, just forgive people, and you'll feel a whole lot better. You will also feel a lot better when they forgive you, too.
Lead us not into temptation, but deliver us from evil. When we talk to God, sometimes we are tempted to ask him for things we don't need. We pray to him for special favors. But with this line of the Lord's Prayer, Jesus is telling us that God is not our private wish factory. God already knows what we need, so we shouldn't be tempted to pray for stuff. We can though pray for him to protect us all from harm; to protect us from doing things that hurt ourselves and other people–that is what deliver us from evil means.
For thine is the kingdom, the power, and the glory, forever and ever, amen. Jesus ends the prayer with some great news. He tells us that God, our Father, has a great kingdom, has great power, and has great glory. It must be great because it lasts forever and ever. Why is this such great news? Because God shares all of this with his children. That means us! We can share in his kingdom, his power, and his glory, if we pray a lot, forgive a lot, love a lot, and treat others like we want to be treated.

If Jesus were a Zen teacher what might he say? Click on Zen to find out.
—-
The Lord's Prayer is a short prayer but one that is layered with meaning. Read our free online book The Lord's Prayer for Daily Life to begin discovering the prayer's hidden meanings. Click the following link to begin reading the Living Hour book now: The Lord's Prayer.
To see the world in a grain of sand and heaven in a wildflower. Those are lovely sentiments from the brilliant 19th century poet William Blake–some folks may even take inspiration from them. But few of us actually are changed by such words. They simply strike our fancy for a moment, as we smile at their profundity. Then our thoughts eventually turn back to the problems and annoyances of daily life. One expects that William Blake well knew the impotency of words in manifesting change in others, and thus penned his lofty verse simply for himself–a way of honoring his personal relationship with God and celebrating the magnificence of creation.
As we've elevated famous artists to the rank of nobility, enshrining their works in museums, immortalizing their lives in books, and lavishing them with money and praise, we have forgotten that art is ultimately a democratic endeavor to be pursued by everyone–for it is through art (be it painting, writing, sketching, crafting, building, carving, sewing, or what have you) that we grow closer to God and begin to truly see the world as He sees it–a co-creator within His creation.
When we work diligently, patiently, and lovingly at our art/craft (whatever that may be), we slowly approach that destination which the novelist Lawrence Durrell said was the ultimate goal of all true artists: developing a personality which transcends art. This transcendent personality is the one we find realized in Jesus of Nazareth, who having achieved union with the Father thru Christ not only saw heaven in a wildflower but in every living thing, including the worst sinners among us.
It was then by the force of that personality (and not his words alone) that Jesus became a "fisher of men," truly capable of transforming the lives of others.
Please subscribe to The Living Hour's free Daily SBNR Motivationals by entering your email address into the "Opening the Small Gate" box in the right corner of this web page. This Progressive Christianity series is written for Unitarians, Agnostics, and all who seek a richer life
Gospel of Mark 10
On leaving that place, Jesus went into the district of Judea on the other side of the Jordan. Crowds gathered about him again; and again, as usual, he began teaching them. 2 Presently some Pharisees came up and, to test him, asked: "Has a husband the right to divorce his wife?" 3 "What direction did Moses give you?" replied Jesus. 4 "Moses," they said, "permitted a man to 'draw up in writing a notice of separation and divorce his wife.'"
5 "It was owing to the hardness of your hearts," said Jesus, "that Moses gave you this direction; 6 But, at the beginning of the Creation, God 'made them male and female.' 7 'For this reason a man shall leave his father and mother, 8 And the man and his wife shall become one;' so that they are no longer two, but one. 9 What God himself, then, has yoked together man must not separate."
10 When they were indoors, the disciples asked him again about this, 11 And he said: "Any one who divorces his wife and marries another woman is guilty of adultery against his wife; 12 And, if the woman divorces her husband and marries another man, she is guilty of adultery."
13 Some of the people were bringing little children to Jesus, for him to touch them; but the disciples found fault with those who had brought them. 14 When, however, Jesus saw this, he was indignant. "Let the little children come to me," he said, "do not hinder them; for it is to the childlike that the kingdom of God belongs. 15 I tell you, unless you receive the kingdom of God like a child, you will not enter it at all." 16 Then he folded the children in his arms, and, placing his hands on them, gave them his blessing.
17 And, as Jesus was resuming his journey, a man came running up to him, and threw himself on his knees before him. "Good Teacher," he asked, "what must I do to gain immortal life?" 18 "Why do you call me good?" answered Jesus. "No one is good but God. 19 You know the commandments: 'Do not kill. Do not commit adultery. Do not steal. Do not say what is false about others. Do not cheat. Honor thy father and thy mother.'" 20 "Teacher," he replied, "I have observed all these from my childhood."
21 Jesus looked at the man, and his heart went out to him, and he said: "There is still one thing wanting in you; go and sell all that you have, and give to the poor, and you shall heave wealth in heaven; then come and follow me." 22 But the man's face clouded at these words, and he went away distressed, for he had great possessions. 23 Then Jesus looked round, and said to his disciples: "How hard it will be for men of wealth to enter the kingdom of God!"
24 The disciples were amazed at his words. But Jesus said again: "My children, how hard a thing it is to enter the kingdom of God! 25 It is easier for a camel to get through a eye of a needle, than for a rich man to enter the kingdom of God." 26 "Then who can be saved?" they exclaimed in the greatest astonishment. 27 Jesus looked at them, and answered: "With men it is impossible, but not with God; for everything is possible with God."
Explore the 'Our Father' Prayer
To continue reading Chapter 11 of the Gospel of Mark, please click on page 2 below.
Now there was a Pharisee named Nicodemus, who was a leading man among the Jews. 2 This man came to Jesus by night, and said to him: "Rabbi, we know that you are a teacher come from God; for no one could give such signs as you are giving, unless God were with him."
3 "In truth I tell you," exclaimed Jesus, "unless you are reborn, you cannot see the kingdom of God." 4 "How can someone," asked Nicodemus, "be born when they are old? Can we be born a second time?" 5 "In truth I tell you," answered Jesus, "unless you owe your birth to water and spirit, you cannot enter the kingdom of God.
6 All that owes its birth to human nature is human, and all that owes its birth to the spirit is spiritual. 7 Do not wonder at my telling you that you all need to be reborn. 8 The wind blows where it wills, and you can hear the sound of it, but you do not know whence it comes, or where it goes; it is the same with everyone that owes his birth to the spirit." 9 "How can that be?" asked Nicodemus.
10 "What! You a teacher of Israel," exclaimed Jesus, "and yet do not understand this! 11 In truth I tell you that we speak of what we know, and state what we have seen; and yet you do not accept our statements. 12 If, when I tell you earthly things, you do not believe me, how will you believe me when I tell you of heavenly things?"
13 "None have ascended to heaven, except those who descended from heaven—the Son of Man himself. 14 And, as Moses lifted up the serpent in the desert, so must the Son of Man be lifted up; 15 That everyone who believes in him may have everlasting life."
16 "For God so loved the world, that he gave his only Son, that everyone who believes in him may not be lost, but have everlasting life. 17 For God did not send his Son into the world to condemn the world, but that the world might be saved through him. 18 Those who believe in him escape condemnation, while those who do not believe in him are already condemned, because they have not believed in the only Son of God."
19 "The ground of their condemnation is this: that though light has come into the world, they preferred the darkness to light, because their actions were wicked. 20 For those who live an evil life hate the light, and will not come to it because they fear that their actions will be exposed; 21 But those who act upon the truth come to the light, that their actions born in God may be made manifest."
22 After this, Jesus went with his disciples into the country parts of Judea; and there he stayed with them, and baptized. 23 John, also, was baptizing at Aenon near Salim, because there were many streams there; and people were constantly coming and being baptized 24 (For John had not yet been imprisoned).
25 Now a discussion arose between some of John's disciples and a Jew on the subject of 'purification;' 26 And the disciples came to John and said: "Rabbi, the man who was with you on the other side of the Jordan, and to whom you have yourself borne testimony, he also is baptizing, and everybody is going to him." 27 John's answer was: "We can gain nothing but what is given to us from heaven.
28 You are yourselves witnesses that I said, 'I am not the Christ,' but 'I have been sent before him as a messenger.' 29 It is the bridegroom who has the bride; but the bridegroom's friend, who stands by and listens to him, is filled with joy when he hears the bridegroom's voice. This joy I have felt to the full. 30 He must become greater, and I less. 31 He who comes from above is above all others; but a child of earth is earthly, and his teaching is earthly, too. He who comes from heaven is above all others."
32 "He states what he has seen and what he heard, and yet no one accepts his statement. 33 They who did accept his statement attested the fact that God is true. 34 For he whom God sent as his messenger gives us God's own teaching, for God does not limit the gift of the spirit. 35 The Father loves his Son, and has put everything in his hands. 36 He who believes in the Son has everlasting life, while he who rejects the Son will not even see that life, but remains under God's displeasure."
To read the next chapter of the Book of John, please go to The Gospel of John – 4.
This Online New Testament Gospel of John is excerpted from the book The Living Hour: The Lord's Prayer for Daily Life (with New Century Gospels). Including over 200 bookmarked citations from the canonical Gospels, this Progressive Christian book appeals to the Unitarian spirit at the heart of all faiths.
Challenge your perceptions on the Gospel of Christ, Jesus's parables, and the Kingdom of God by purchasing The Lord's Prayer book today. Produced by LivingHour.org, a Thailand-based small press dedicated to publishing unique Learning Easy Thai Language Books, as well as works on progressive spirituality.
The following is The Lord's Prayer from The King James Version (KJV) of the Holy Bible, the prayer which Jesus taught his disciples when they asked him how to pray, the prayer which is the Rosetta Stone for understanding the Gospel of Jesus Christ.
The prayer appears twice in the KJV Holy Bible: in the Gospel of Matthew 6:9-13, and in the Gospel of Luke 11:1-4. The prayer which Jesus teaches his disciples and appears in the Book of Luke is slightly different than Matthew's version, which appears below. One difference is that the last line of the prayer is not included.
The Lord's Prayer – King James Version
Our Father which art in heaven,
Hallowed be thy name.
Thy kingdom come,
Thy will be done
In earth, as it is in heaven.
Give us this day
Our daily bread.
And forgive us our debts,
As we forgive our debtors.
And lead us not into temptation,
But deliver us from evil:
For thine is the kingdom, and the power, and the glory, for ever.
Amen.
———
What is the Lord's Prayer? It is a short prayer but one that is layered with meaning. Read our free online book The Lord's Prayer for Daily Life to begin discovering the prayer's hidden meanings. Click the following link to begin reading the Living Hour book now: The Lord's Prayer.
If you would like to read The Lord's Prayer translated into Aramaic, the language of Jesus, please go to: The Lord's Prayer in Aramaic.