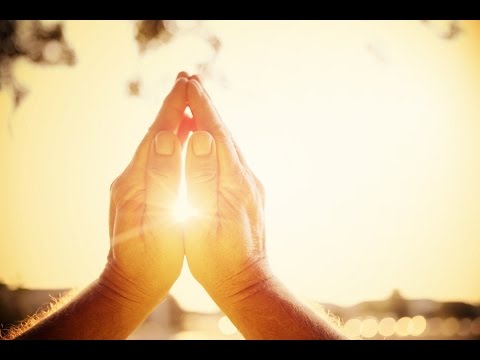 Chapter 1
Our Father who art in
heaven…
(Understanding Our Relationship to God)
The Lord's Prayer begins with an idea that seems easy enough to understand. Jesus wants to establish God as our heavenly Father, and we as his children. What we often fail to notice though is what Jesus doesn't say—yet what he leaves out is just as important. What Jesus doesn't say is that we should pray to God as "My Father." We are taught to address him as "Our Father" because prayer is not about individualism. It is not a private wish factory,1 churning out favors so that we can escape the hardships of life. Its purpose is to bring us together:2 to bring unity to our relationship with God and his creation.3
But why does Jesus describe God as a father figure? Why not "Our Mother" or "Our Creator"? Or why not just say "Our God"? Before trying to answer this, we need to recognize that our lives are defined by our relationships: the good and the bad. The roads we've taken have been paved by the arguments, joys, sadness, and desires we've shared with our family and friends. These roads though frequently do not lead to Christ or the kingdom of God.4 So Jesus demands that we tear them up.
He challenges us to hate our fathers, mothers, brothers, and sisters, and abandon the life we've come to know.5 It's an alarming request. If a preacher ordered his followers to do that today, we would call him a cult leader or religious crackpot. So what are we to make of this demand?
It's doubtful that early Christians manufactured this teaching, since it directly opposes the Mosaic law of honoring thy parents. Yet the message seems to clearly contradict Christ's gospel of love.6 Why are we to love our neighbors as ourselves but then hate our families? Let's first step back for a moment and consider Jesus's larger teaching methods. After all, this isn't the only time in the Gospels that he makes demands that seem outlandish or unrealistic. For example, how many of us are really prepared to sell our possessions and give everything to the poor?7
As a spiritual teacher, Jesus had a keen understanding of human nature and the mind. He knew that most of his followers lived hopelessly one sided lives—their attachments to material things and family always seeking primacy. It is no different with us today. So to break these attachments, Jesus plays a clever psychological game. He demands our exact opposite behavior: in other words, hating our parents (while loving God alone); and abandoning our worldly goods (while earning treasures in heaven).
But we have to remember that this is only a temporary mind game. Jesus doesn't expect us to turn our backs on our families forever or take vows of abject poverty. His hope is that these harsh commands will serve as an internal baptism of fire.8 And that as the flames rise up, they will be doused with the living water of the Holy Spirit,9 so that we will emerge from the ashes as harmonious new creations—instinctively knowing what things to render Caesar and what things to render God.10
To bring this new being to term, Jesus couldn't refer to God simply as an abstraction. He had to make God tangible to us in a very human way—that is, as a parent. He also had to contend with Old Testament scripture. In matters related to "religion," Jesus knew a lighter touch was needed than that which he used when dealing with our earthly attachments. For example, even though he turns many Mosaic laws on their head, his ministry wouldn't have gotten very far had he gone around telling Israel to hate the prophets. He also couldn't ignore the wisdom contained in Jewish scripture.11
So Jesus hit upon an ingenious solution. He told his followers that…
The Lord's Prayer. To continue reading, click on page 2 at the bottom.