Gospel of Matthew 14
At that time Prince Herod heard of the fame of Jesus, 2 And said to his attendants: "This must be John the Baptist; he must be risen from the dead, and that is why these miraculous powers are active in him." 3 For Herod had arrested John, put him in chains, and shut him up in prison to please Herodias, the wife of Herod's brother Philip. 4 For John had said to him: 'You have no right to be living with her.' 5 Yet, though Herod wanted to put him to death, he was afraid of the people, because they looked on John as a prophet.
6 But, when Herod's birthday came, the daughter of Herodias danced before his guests, and so pleased Herod, 7 That he promised with an oath to give her whatever she asked. 8 Prompted by her mother, the girl said: 'Give me here, on a dish, the head of John the Baptist.' 9 The king was distressed at this; yet, on account of his oath and of the guests at his table, he ordered it to be given her. 10 He sent and beheaded John in the prison; 11 And his head was brought on a dish and given to the girl, and she took it to her mother. 12 Then John's disciples came, and took the body away, and buried it; and went and told Jesus.
13 When Jesus heard of it, he retired privately in a boat to a lonely spot. The people, however, heard of his going, and followed him in crowds from the towns on foot. 14 On getting out of the boat, Jesus saw a great crowd, and his heart was moved at the sight of them; and he cured all the sick among them. 15 In the evening the disciples came up to him, and said: " This is a lonely spot, and the day is now far advanced; send the crowds away, that they may go to the villages, and buy themselves food." 16 But Jesus said: "They need not go away, it is for you to give them something to eat."
17 "We have nothing here," they said, "except five loaves and two fishes." 18 "Bring them here to me," was his reply. 19 Jesus ordered the people to take their seats on the grass; and, taking the five loaves and the two fishes, he looked up to heaven, and said the blessing, and, after he had broken the loaves, gave them to his disciples; and they gave them to the crowds. 20 Everyone had sufficient to eat, and they picked up enough of the broken pieces that were left to fill twelve baskets. 21 The men who ate were about five thousand in number, without counting women and children.
22 Immediately afterwards Jesus made the disciples get into a boat and cross over in advance of him, while he dismissed the crowds. 23 After dismissing the crowds, he went up the hill by himself to pray; and, when evening fell, he was there alone. 24 The boat was by this time some miles from shore, laboring in the waves, for the wind was against her.
25 Three hours after midnight, however, Jesus came towards the disciples, walking on the water. 26 But, when they saw him walking on the water, they were terrified. "It is a ghost," they exclaimed, and cried out for fear. 27 But Jesus at once spoke to them. "Be of good cheer," he said, "It is I; do not be afraid."
28 "Master," Peter exclaimed, "if it is you, tell me to come to you on the water.":29 And Jesus said: "Come." So Peter got down from the boat, and walked on the water, and went towards Jesus; 30 But, when he felt the wind, he was frightened, and, beginning to sink, cried out: "Master! Save me!" 31 Instantly Jesus stretched out his hand, and caught hold of him. "O ye of little faith!" he said, "Why did you falter?" 32 When they had got into the boat, the wind dropped. 33 But the men in the boat threw themselves on their faces before him, and said: "You are indeed God's Son."
34 When they had crossed over, they landed at Gennesaret. 35 But the people of that place, recognizing Jesus, sent out into the whole country around, and brought to him all who were ill, 36 Begging him merely to let them touch the tassel of his cloak; and all who touched were made perfectly whole.
——
To read Chapter 19 of the Gospel of Matthew, please go to: Fish and Loaves
Gain fresh insight into the Lord's Prayer. Read our free online book The Lord's Prayer for Daily Life. The prayer's hidden teachings will enrich and inspire you. Click the following link to begin reading the Living Hour Book now: The Lord's Prayer.
Browse the entire Gospel of Matthew here: Gospel of Matthew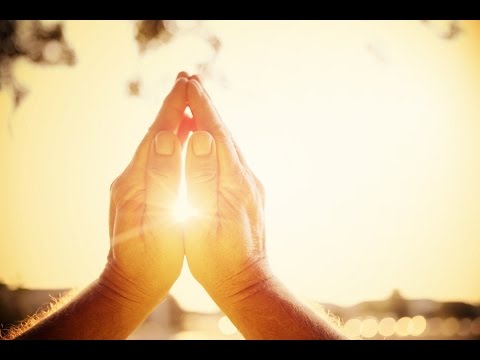 Chapter 1
Our Father who art in
heaven…
(Understanding Our Relationship to God)
The Lord's Prayer begins with an idea that seems easy enough to understand. Jesus wants to establish God as our heavenly Father, and we as his children. What we often fail to notice though is what Jesus doesn't say—yet what he leaves out is just as important. What Jesus doesn't say is that we should pray to God as "My Father." We are taught to address him as "Our Father" because prayer is not about individualism. It is not a private wish factory,1 churning out favors so that we can escape the hardships of life. Its purpose is to bring us together:2 to bring unity to our relationship with God and his creation.3
But why does Jesus describe God as a father figure? Why not "Our Mother" or "Our Creator"? Or why not just say "Our God"? Before trying to answer this, we need to recognize that our lives are defined by our relationships: the good and the bad. The roads we've taken have been paved by the arguments, joys, sadness, and desires we've shared with our family and friends. These roads though frequently do not lead to Christ or the kingdom of God.4 So Jesus demands that we tear them up.
He challenges us to hate our fathers, mothers, brothers, and sisters, and abandon the life we've come to know.5 It's an alarming request. If a preacher ordered his followers to do that today, we would call him a cult leader or religious crackpot. So what are we to make of this demand?
It's doubtful that early Christians manufactured this teaching, since it directly opposes the Mosaic law of honoring thy parents. Yet the message seems to clearly contradict Christ's gospel of love.6 Why are we to love our neighbors as ourselves but then hate our families? Let's first step back for a moment and consider Jesus's larger teaching methods. After all, this isn't the only time in the Gospels that he makes demands that seem outlandish or unrealistic. For example, how many of us are really prepared to sell our possessions and give everything to the poor?7
As a spiritual teacher, Jesus had a keen understanding of human nature and the mind. He knew that most of his followers lived hopelessly one sided lives—their attachments to material things and family always seeking primacy. It is no different with us today. So to break these attachments, Jesus plays a clever psychological game. He demands our exact opposite behavior: in other words, hating our parents (while loving God alone); and abandoning our worldly goods (while earning treasures in heaven).
But we have to remember that this is only a temporary mind game. Jesus doesn't expect us to turn our backs on our families forever or take vows of abject poverty. His hope is that these harsh commands will serve as an internal baptism of fire.8 And that as the flames rise up, they will be doused with the living water of the Holy Spirit,9 so that we will emerge from the ashes as harmonious new creations—instinctively knowing what things to render Caesar and what things to render God.10
To bring this new being to term, Jesus couldn't refer to God simply as an abstraction. He had to make God tangible to us in a very human way—that is, as a parent. He also had to contend with Old Testament scripture. In matters related to "religion," Jesus knew a lighter touch was needed than that which he used when dealing with our earthly attachments. For example, even though he turns many Mosaic laws on their head, his ministry wouldn't have gotten very far had he gone around telling Israel to hate the prophets. He also couldn't ignore the wisdom contained in Jewish scripture.11
So Jesus hit upon an ingenious solution. He told his followers that…
The Lord's Prayer. To continue reading, click on page 2 at the bottom.
Chapter 2
Hallowed be thy name…
(Understanding God's Identity)
Jesus establishes God as a heavenly father figure, but that's not enough for most of us. Without a name, he seems lost in abstraction. Try as we might, we simply can't bring him into view. There is only the vague presence of someone hovering around us—like the adult of a Charlie Brown Peanuts Special, always outside the frame, speaking in a strange indecipherable language. Jesus understands our predicament, but unlike Moses, who chiseled the Word to fit the hardness of our hearts,1 he isn't going to bend the gospel around our weaknesses. He'll allow for the idea that God has a name, but he isn't about to tell us what it is.
Why the secrecy? Because Jesus understood that once God is given a name such as Yahweh or Elohim, it doesn't take long before we start asking for special favors.2 Jesus, as we know, wanted to break the belief in a God that plays favorites. He wanted his followers to realize that in the Father's eyes all races of people are equal: the gospel of Christ beating at the heart of all true religions. "He who is not against us are for us,"3 proclaimed the carpenter's son. That includes Buddhists, Muslims, Taoists, Jews, and others. What we label ourselves isn't important as long as we follow Christ's gospel of love, charity, and good works—as long as we climb the mountain and live up to our potential as God's children.
Our journey though is hard and steep—especially at the beginning—which is why when churches offer a shortcut to the kingdom of heaven we are quick to accept. It's quite comforting to think that Jesus did all the legwork, and that we can just coast into heaven on the belief that he is our savior. Unfortunately, Jesus never made such a claim. In fact, he makes it quite clear that he expects us to do our own walking, carrying our own crosses.4 The obstacles we face on the way are our responsibility to remove because, more often than not, they are of are own making.
One obstacle to the kingdom is our habit of seeking God from without rather than within. In Old Testament days, this habit regularly took the form of idol worship. Today it is much the same, except we've replaced the golden calf with images of Jesus of Nazareth—fetishizing his likeness in our churches, art work, books, and car ornaments.
We've fallen into this trap because Jesus, while being cagey about God's name, says that salvation is to be found through his own "name".5 As usual, we have to be careful of taking Jesus's reported words too literally. It is clear that he never wanted to be personally honored for the things he did.6 Throughout the Gospels he shuns the ego–trip, cherishing anonymity over fame.7 He even goes so far as to tell the disciples not to call him "good,"8 while urging secrecy from those whom he heals.9
When Jesus talks of Christ, God, or the kingdom of heaven, he always speaks in metaphors and parables,10 expecting us to seek the deeper meaning. When Jesus says that he is the pathway to the Father,11 he is not talking as Jesus of Nazareth but as the Christ child who lives in us all. He is calling each of us to turn our attention inward, to reconnect with that child through the power of the Holy Spirit.12 What he is not doing, is asking us to bow down and praise him, or go through life as spiritual automatons asking, "What would Jesus do?" If we are to kneel before anyone it is our neighbor, so as to wash their feet and honor them as sons and daughters of the Lord.13
This teaching has always been a pretty hard one to…
The Lord's Prayer. To continue reading, click on page 2 at the bottom.
Chapter 3
Thy kingdom come…
(Understanding God's Will)
With the second line of The Lord's Prayer, we arrive at the heart of the matter: God's kingdom. To understand how Jesus views his Father's kingdom, we first need to do some–thing that will seem strange. We must take all discussion of "Heaven" off the table. There will be no talk about heaven with a capital "H," the place we think we'll go to (if lucky) when we die. We're just not going to go there.
Why? Because as soon as we see heaven and hell as proper names, as specific places where rewards and punishments are meted out, the acceptance of Christ and all associated good works become petty acts of bribery. The afterlife must remain unknown, because the quality and strength of our faith, as well as the morality of our actions, depends on the mystery. For this reason, Jesus calls us to attend not to the dead1 (who are beyond our reach) but to those who are living and can feel our touch.
It is by nurturing the living God in ourselves and others that we make the Father's kingdom come.2 But what exactly is this kingdom if it is not what we normally take for heaven? The Gospels provide us with plenty of clues. But also many false leads. We need to be careful when applying our winnowing fans.
We should remember that the tribes who handed down the story of Jesus believed that a final day of judgment would occur during their own generation.3 That is why the apostles are so despondent after Jesus's death. They thought he was going to physically deliver Jerusalem from Roman authority, and then rule over an earthly kingdom.4 But Jesus had something different in mind. He wanted his disciples to view the Lord not as a King on High but as a secret spirit living in us all,5 with the power to reveal a kingdom already here.6
Therefore, we must sidestep any reference to the end–time theologies7 that were prevalent during Jesus's day, and which today have made best–selling authors of those who exploit fears of being left behind. After all, how is it that we will find ourselves raptured into the sky or see Jesus surfing down from the clouds,8 when God's kingdom, we are told, cannot be witnessed by the eye because it lives within us?9 The answer is, we can't, and won't. The gates of heaven are unlocked when our hearts and minds work in unison to discover God's Word,10 which is alive all around us.
That is why Jesus insists on talking in parables when describing the kingdom: because parables make us think. They don't dictate hard and fast answers. Jesus, like the river guide, leads us upstream to where the fish are, but insists that we make our own catch. The problem though is that we often feel stranded upriver without a pole!
But Jesus doesn't actually leave us…
The Lord's Prayer. To continue reading, click on page 2 at the bottom.
Chapter 4
Thy will be done…
(Understanding God's Will)
In the Book of Luke, there is a curious statement about God. Luke quotes the prophet Isaiah as saying that through Christ (the Lord) all mankind shall see the "salvation of God".1 Considering the ham–fisted way that Jesus's twelve apostles (not to mention the Pharisees and Sadducees) often handled Old Testament scripture, we might be tempted just to pass over this comment from Isaiah. But that would be a mistake.
Christ, through the power of the Holy Spirit, has been inspiring prophets since the beginning of the world. 2 Jewish scripture, like all holy scripture, is capable of profound revelation, and this quote by Isaiah is a jewel of an example—albeit one that is rarely talked about. Our silence surrounds the disturbing question: From what exactly does an all powerful God need to be saved? For mankind, "salvation" means being rescued from the wages of sin, but is God a sinner too?
Some would argue that Jehovah certainly is no saint, considering the peevish, jealous, and wrathful behavior he exhibits in the Old Testament. But when Isaiah refers to God's salvation, he isn't talking about liberating Jehovah from his penchant for tormenting servants like Job just to win bets with Satan. He is talking about the justification of God's will, and the choices he's made. To illustrate God's situation, Jesus tells the story of the prodigal son. 3
In this parable, a father has two sons. The youngest, anxious to experience the world, asks for his inheritance right away. The father abides by this request and grants him his share, which the boy then dutifully squanders on wine, women, and song in a far off land. The young man eventually crawls back home utterly destitute. Rather than chastise his fallen boy, the father welcomes him back with open arms, kills the fatted calf, and throws a big party.
All the merry–making upsets the older son, who stews over the fact that his father never gave him even a young foal to butcher and barbecue for his friends. The father gently rebukes his eldest, stating that everything he owns has always been available to him.
When this parable is taught today, the emphasis is usually on the prodigal son's welcome home party. The celebration is used to demonstrate that we shouldn't be afraid of God's punishment, if we want to return to his fold after years of dissolute living. The beginning of the parable though is just as important, for it reveals the position in which God has placed himself.
The father in Jesus's story did not have to advance his son his inheritance. He could have just as easily said: "No way, get out there and work the fields with your brother." He chose to give the money to his son. And we expect he handed it over knowing full well that his boy wasn't going to invest it in sheep futures.
Not many fathers today would let their child blow such a fortune. Why does this one? Because this father's ultimate concern is not for his estate but for respecting his son's independence. By granting his son the means to live on his own, the father hopes he will make the mistakes he needs to make; learn the lessons he needs to learn; and, when all is said and done, return home realizing that a boundless treasure lay within the bosom of family.
God, in granting us free will, also has given us our…
The Lord's Prayer. To continue reading, click on page 2 at the bottom.
Every chasm shall be filled, every mountain and hill shall be leveled; the winding ways shall be straightened; the rough roads made smooth, 6 And all mankind shall see the salvation of God. – Luke 3:5-6 [↩]
"You are not fifty years old yet," the Jews exclaimed, "and have you seen Abraham?" 58 "In truth I tell you," replied Jesus, "before Abraham was, I am." – John 8:57-58 [↩]
A man had two sons; 12 And the younger of them said to his father: 'Father, give me my share of the inheritance.' So the father divided the property between them. 13 A few days later the younger son got together all that he had, and went away into a distant land; and there he squandered his inheritance by leading a dissolute life. 14 After he has spent all that he had, there was a severe famine through all that country, and he began to be in actual want." 15 "So he went and hired himself out to one of the people of that country, who sent him into his fields to tend pigs. 16 He longed to satisfy his hunger with even the bean-pods on which the pigs were feeding; and no one gave him anything." 17 "But, when he came to himself, he said: 'How many of my father's hired servants have more bread than they can eat, while here am I starving to death! 18 I will get up and go to my father, and say to him: 'Father, I sinned against heaven and against you; 19 I am no longer fit to be called your son; make me one of your hired servants.'" 20 "And he got up and went to his father. But, while he was still a long way off, his father saw him and was deeply moved; he ran and threw his arms round his neck and kissed him. 21 'Father,' the son said, 'I sinned against heaven and against you; I am no longer fit to be called your son; make me one of your hired servants.'" 22 "But the father turned to his servants and said: 'Be quick and fetch a robe—the very best—and put it on him; give him a ring for his finger and sandals for his feet; 23 And bring the fattened calf and kill it, and let us eat and make merry; 24 For here is my son who was dead, and is alive again, was lost, and is found.' So they began making merry." 25 "Meanwhile the elder son was out in the fields; but, on coming home, when he got near the house, he heard music and dancing, 26 And he called one of the servants and asked what it all meant. 27 'Your brother has come back,' the servant told him, 'and your father has killed the fattened calf, because he has him back safe and sound.' 28 This made him angry, and he would not go in. But his father came out and begged him to do so." 29 "'No,' he said to his father, 'look at all the years I have been serving you, without ever once disobeying you, and yet you have never given me even a kid, so that I might have a party with my friends. 30 But, no sooner has this son of yours come, who has eaten up your property in the company of prostitutes, than you have killed the fattened calf for him.'" 31 "'Child,' the father answered, 'you are always with me, and everything that I have is yours. 32 How could we do anything else but make merry and rejoice, for here is your brother who was dead, and is alive; who was lost, and is found." – Luke 15:11–32 [↩]
Chapter 5
On earth as it is in heaven…
(Understanding God's Divide)
In the last two chapters on the Lord's Prayer, we've established that our entrance into the kingdom of heaven depends on our sense of wonder; our ability to think and love; our patience; and our acceptance of will as a matter of choice—a choice shared equally with God, the Father. We've also learned that the kingdom is filled with potential, and with treasures that can be experienced today and every day. Unfortunately, we often lose sight of this. Even those who have dedicated their lives to preaching the Word of God often remain just outside the kingdom's doorway.
Take for example the story of Jesus and the scribe in the Book of Mark. In this story a teacher of Mosaic law asks Jesus which commandment supersedes all others. Jesus replies that it is the first of the ten: "The Lord our God is the one Lord; And thou shalt love the Lord thy God with all thy heart, and with all thy soul, and with all thy mind, and with all thy strength." He then adds that the second most important commandment is: "Thou shall love thy neighbor as thou dost love thyself." The scribe heartily agrees and congratulates Jesus on being so wise. Jesus, in turn, acknowledges the scribe's own wisdom, telling him that he is "not far from the kingdom of God."1
This story shows once again that Jesus did not view heaven as a celestial mansion in the sky or a Garden of Eden revisited. Instead, he saw God's kingdom as a hidden reality waiting to be brought into the light.2 Much more than a state of mind, it is a state of being wherein the heart, soul, and mind work as one—and which find their perfect stride in Christ. Hitting that stride takes more than having one's heart in the right place or possessing wisdom (such as the scribe had), it means tapping the latent power of the Holy Spirit to bring harmony to our divided house, and likewise to God's.
When Jesus says that with the coming of the kingdom of heaven and the Son of Man two shall be found and then one taken and the other left,3 he is talking about our divided selves. He is not saying, as we discussed before, that there is going to be a rapture, where the faithful are whisked up into the sky while the sinners are left to stew in their juices.
As the story of Jesus got passed down, the term Son of Man4 became interchangeable with Son of God.6 But for Jesus, these appellations were not the same. The Son of Man refers to our ego's currently limited perception of our selves. And while this perception is necessary because (as symbolized by John the Baptist) it bears witness to Christ and the Word of God,5 it also ultimately must be beheaded6 (i.e., crucified)7 to make way for the Son of God and our expanding Christ consciousness—wherein which we treat our neighbors as ourselves because we recognize them as true reflections of ourselves.
Each one of us is born into a kingdom divided. And in this kingdom, we find both Christ and Satan competing for our attention—one using the Holy Spirit as his emissary and the other using the Ego. Yet it is a kingdom which cannot stand,8 for it causes us to love one master and hate the other.9 Or rather we go through life flipping allegiances between the two. When praying The Lord's Prayer, we therefore must think deeply on the ways we are divided against our better selves, divided against our consciences, divided against Christ—for these divisions prevent us from manifesting the kingdom of heaven within and recognizing its fruits around us.
Consider Martha's behavior in the…
The Lord's Prayer. To continue reading, click on page 2 at the bottom.
Chapter 6
Give us this day…
(Gathering the Moment at Hand)
Up to this point in the Lord's Prayer, Jesus has been laying a foundation—one that establishes our relationship to God and his creation. When we recite the beginning of the prayer, we are thus engaging in an act of grounding, reminding ourselves that at the core of our existence we remain rooted in Christ.1
With the foundation complete, Jesus moves on to what many of us think is the business of prayer: asking for things. But as we mentioned in Chapter 2, prayer isn't about asking for special favors. In fact, it isn't even about "asking" at all—since, as Jesus says, God already knows what we need before we ask him.2 So what is prayer about? The simplest answer is that it is about gathering and release.
When we think about gathering and Christ, the first image that comes to mind is probably the shepherd. Many of us see Jesus as the "Good Shepherd"3 gathering his lost flock back within the fold of his love. This image is popular because Jesus often used sheep and shepherds as metaphors when he taught. He described those who deliver the gospel of Christ as lambs among wolves,4 and those without Christ's guidance as sheep without a shepherd.5 He also warned us of embracing false teachers who come in the guise of innocent sheep but have sinister hidden agendas.6
What we don't usually think about when contemplating gathering is the story of the prodigal son. We talked earlier about how this parable reveals the will of God as a matter of choice. But when we turn our attention to the son, and view the story through his eyes, the parable reveals a different lesson—which is the wonderful thing about parables: like crystals, they reflect new light (insight) as we turn them.
When the young man seeks his inheritance from his father, he doesn't plead for it. Instead, he speaks with authority: "Father, give me my share of the inheritance." (A man had two sons; 12 And the younger of them said to his father: 'Father, give me my share of the inheritance.' So the father divided the property between them. – Luke 15:11-12)) We often overlook that fact. But it is an important one. Because it shows that the son is claiming ownership over something that he believes is rightfully his.
Throughout the Gospels, Jesus also speaks with "authority",7 and says that when we speak in such a way, our Father will dutifully respond. In fact, he claims that God will grant us anything:8 that the dead will rise,9 and mountains move at our command, if we but have the faith of a mustard–seed10 and command it in his name.
This teaching has caused a lot of confusion over the years. Some Christians have taken it at face value and, because of that, acted irresponsibly—such as recklessly barring medical treatment to loved ones (believing that they could heal them through faith alone). Others have disregarded the whole moving mountains thing as just Jesus getting a little carried away with his metaphors. But if we reflect on the teaching a little longer, the true Word begins to emerge.
Let's begin our reflections by recalling that…
The Lord's Prayer. To continue reading, click on page 2 at the bottom.
Chapter 7
Our daily bread…
(Gathering Our Inheritance)
Knowing that we can claim ownership of our inheritance in the living hour is one thing. But what are we supposed to do with that knowledge? The childhood keys of wonderment and immediacy help unlock the door to the kingdom of heaven, but they don't have the power to usher us across the threshold. To cross into the kingdom and gather our inheritance, we have to move beyond the carefree world of the child and into the care-driven world of adults—to expand our concerns beyond the "me" to include the "us".
We can begin by recognizing that although the spontaneity of the child and the adult are similar, they are not one and the same. Take for example the miracles that Jesus performs in the Gospels. If we can set aside the unanswerable question of whether or not these miracles actually occurred, we can begin to see the miracle stories as parables of spontaneity, ones which teach us that living in Christ means immediately responding to the needs of others. Whether it is healing the sick,1 walking on water,2 or turning water into wine,3 Jesus never hesitates but responds spontaneously and confidently to those who call out to him.
Spontaneous charity is taught also by the story of the Good Samaritan.4 In this well–known parable a man gets robbed and beaten while on a trip from Jerusalem to Jericho. A priest and a local man pass by him as he lies half–dead on the road. Finally a stranger from Samaria stops, tends to his wounds, and takes him to an inn to recuperate, paying the man's bills—all without giving his actions a second thought.
The genuine caring shown by the Good Samaritan sheds light on Jesus's enigmatic teaching: "When you do acts of charity, do not let your left hand know what your right hand is doing, so that your charity may be secret; and your Father, who sees what is in secret, will recompense you."5 By performing our acts of charity spontaneously like the Samaritan, we keep them secret from our egos (that part of us which wants to debate whether we have the time, money, or energy to respond to others in need), and we allow our Christ consciousness to rise (that part of us which recognizes that when others suffer we suffer too). Our charity is thus driven by nothing except a true generosity of spirit.
Jesus encourages us to bring that same spirit to our acts of fellowship. The generosity of Christ is shown by welcoming all the members of our community to our table—the good and the bad, the funny and the dull, the smart and the annoying. Look at the way Jesus accepted twelve very flawed apostles as his intimates. That he took in Judas (knowing full well that he would betray him) and never gave up on the poor, clueless, and overzealous Peter should be a lesson to us all. Furthermore, we are told how Jesus regularly sat down to eat and drink with his neighbors,6 regardless of how "righteous" they might be or what other people thought—so much so that he was unfairly labeled a glutton and a wino.7
Never has Jesus's gospel of fellowship and acceptance had more…
The Lord's Prayer. To continue reading, click on page 2 at the bottom.
Chapter 8
And forgive us our trespasses…

(Removing Our Hindrances Part II)

We've just described our journey toward a life in Christ as a rising. But the act of "rising" (such as rising above petty arguments and concerns) can sometimes get us into trouble, especially we Christians. The reason is that when we rise toward our divinity, we often look down on others with a misguided sense of superiority.1 Jesus condones none of that. He knocks us off our pedestals by insisting that we wash the feet of others if we are to have any part of him.2
To keep us grounded Jesus also teaches that our rebirth in Christ is owed to both spirit and water.3 This lesson is one that's largely been forgotten. Most Christians today see water simply as an accoutrement to the ritual of baptism, forgetting that the performance of rituals was something that Jesus only grudgingly accepted—for he knew how often they become codified into new forms of idolatry.
We can see such idolatry in the way the Pharisees rigidly held to their laws of the Sabbath.4 When it came to baptism, Jesus saw it as something which needed to be done for the sake of the community, rather than for himself—telling John the Baptist they must suffer the task so as to "satisfy every claim of religion."5 In other words, Jesus allowed himself to be baptized to fulfill the religious expectations of Israel, so that their minds would remain open to receiving the gospel of Christ.
That the heavens are said to have literally opened up during Jesus's baptism, with the Holy Spirit descending on his head like a dove,6 does not mean that we are magically turned into Christians during this ritual. Instead, these metaphors are used to illustrate water's essential role in our spiritual transformation.
To understand why Jesus says that our rebirth in Christ is owed to water, we must look at water as a parable, or character in a story. Water's narrative is that it likes to follow the path of least resistance. Likewise, the Holy Spirit seeks the path of least resistance as we remove the hindrances7 that block Christ from entering our lives.
Throughout Christendom this teaching has been driven under ground by a litany of ignoble wars, fire and brimstone preachers, and overzealous missionaries. But no person has ever been led to Christ through violence, threats, or intimidation, only by experiencing the Holy Spirit as it flows effortlessly from the souls of others.
How easily we forget Jesus's admonition to turn the other cheek; to not resist wrongs; to give our possessions to those who want to sue us; and walk two miles with those who compel us to go but one.8 In other words, to pass through this life like water.
Rather than accept the path of least resistance, we often strike out on the course of greatest resistance, confusing the lesser path with one of weakness. What we fail to recognize (but what Jesus was well aware of) is that water has another defining characteristic. It has the dammed up potential to flow forward with great force, when its hindrances are pulled away, forever altering the landscape below the break. Likewise, the Holy Spirit has tremendous power to transform lives, to create a holy current that will carry along others and make us true "fishers of men," As Jesus was walking along the shore of the Sea of Galilee, he saw two brothers—Simon, also known as Peter, and his brother Andrew—casting a net into the sea; for they were fishermen. 19 "Come and follow me," Jesus said, "and I will make you fishers of men." 20 The two men left their nets at once and followed him.9 if we but remove the obstacles in its path.
When we pray "forgive us our trespasses" we are beginning…
The Lord's Prayer. To continue reading, click on page 2 at the bottom.
Chapter 9
As we forgive those who
trespass against us…

(Removing Our Hindrances, Part II)
Removing the hindrances that block the coming of Christ involves more than just seeking forgiveness. It means giving forgiveness, too. And that can be pretty tough sometimes. As Christians we often think that unless punishments are meted out swiftly and severely our communities will turn into modern day Sodoms & Gomorrahs.
In America this fear fuels our continuation of the death penalty, world record incarceration rates, and overflowing court dockets. There is not a lot of forgiveness going around—to put it mildly. Christians know (or should know) that these actions run contrary to the teachings of Jesus and our faith. But we justify our behavior by revisiting Old Testament laws.
An "eye for an eye" makes so much better sense, because it is like a balancing of the ledger books. And it feels a lot better, too. Because it satisfies our desire for revenge. But playing tit for tat doesn't balance our offenses before God. The book of life is not a ledger of rights vs. wrongs; it is a story of forgiveness and hope. And unless we forgive others, the forgiveness we ask of the Father will not be given.1 For it has, in fact, never been heard.
To better explain this, let's return to the parable of water. We already know that water follows the path of least resistance. It also has another defining characteristic: it seeks its own level. This means that when water flows into a container (be it a cup, lake, or pool) it rises to a height that is level all around. Likewise, the Holy Spirit seeks its own level within of us. And its height is largely determined by our ability to forgive others, just as God forgives us.2
When we refuse to grant forgiveness, the water of the Holy Spirit dries to dust—the same dust that Jesus writes in when the angry crowd seeks to stone the adulteress.3 The dust we shuffle through daily, when we demand that others pay for their offenses and failures to live up to our expectations.
In our anxiousness for retribution, we forget that ultimately every offender pays for the offense that matters most: trespassing against the Holy Spirit.4 And the payment levied by God is that person's continued separation from his kingdom and a life more abundant.
We must remember that an individual's spiritual journey is long and hard, and no journey is the same. When we lose patience and are quick to judge others, we should recall how "slow to learn"5 the apostles were. Yet slow to learn doesn't mean can't learn. Christ's wisdom is a seed that grows differently in every person. Even God does not know how and when it will grow inside us.6 But grow it will if we have the faith to let the will of the Father run its course, and don't act as hindrances in its way.
It might seem impossible to forgive someone who has wronged us "seventy times seven times".7 Because it feels like we are letting the offender off the hook. But actually we are leaving ourselves of the hook; releasing ourselves from the anger, frustration, disappointment, and superiority that often accompany our judgments.
A few chapters ago, we mentioned that we can take…
The Lord's Prayer. To continue reading, click on page 2 at the bottom.
Chapter 10
And lead us not into
temptation…
(Overcoming Our Pride)
Having led us through forgiveness, the Lord's Prayer turns to temptation. Jesus approaches the subject from a curious angle. He asks us to pray that the Father will not lead us into temptation. This inevitably causes us to ask: Why would an all–good God lead us to the devil's doorstep? If we believe in the Lord, does he not reward that faith by leading us away from temptation?
Before answering those questions, we need to remember that we are partners with God in this life. Although he regularly grants us blessings in the form of our "daily bread," how we use and respond to that bread is up to us. Every blessing and talent bestowed by the Holy Spirit carries with it the seeds of our salvation, and our ruin.
This lesson is taught through the story of Christ's temptation in the wilderness. Jesus becomes "full of the Holy Spirit"1 before it leads him to his sit–down with the devil (a confrontation the Spirit will arrange on our behalf, too, since we must follow in Jesus's footsteps).2 But why does the great tempter appear when we are full of the Holy Spirit and its glory? The popular cry among Christians is for God to save us from temptation because our spirit is weak. The whole sequence of events sounds strange.
We often don't pray when we feel strong in spirit, because we don't even recognize the risk—which makes these moments all the more dangerous. But Jesus warns us of the threat we face when he says that many who are first shall be last3 and that the rich man will find it easier to pass through the eye of a needle than the gates of heaven.4
The danger is the sin of pride. And it is a temptation that Jesus overcame not only in the wilderness, when he refuses to be tempted by the devil into proving himself to be a Son of God or accepting rule over an earthly kingdom,5 but in every village he went to during his short ministry.
That Jesus battles the devil and the sin of pride all the way up to his death is something we often don't notice. We tend to think that he conquers Satan in the wilderness and that's the end of it. But in the Book of Luke we are told that the devil, having emptied his bag of tricks, only slips away to wait for his next opportunity.6 Knowing that Satan remains with him but in hiding, Jesus goes about his business in ways to reduce those opportunities for the devil to appear and tempt him into pride.
Worried that Jerusalem will replace the gospel of Christ with…
The Lord's Prayer. To continue reading, click on page 2 at the bottom.
Chapter 12
For thine is the
kingdom, the power, and
the glory, forever, amen.
(Understanding God Time)
The Lord's Prayer began by grounding us in our relationship with the Father, and it ends now by solidifying our faith in that kinship. We have already talked about how the kingdom, power, and the glory of God are played out within the living hour; but most of us are not satisfied with this daily bread. We want to know that there is a divine plan, with a definitive beginning and end, that's been arranged by the Father.
Our desire to see the culmination of God's plan is what led Jesus's early Jewish followers to believe that he was an earthly messiah. And it is what fuels today such false beliefs as the rapture and Jesus's second-coming out of the clouds. Without an end–game in place, we find our faith under assault,1 as we try to make sense of a world filled with horrors, suffering, and loss. Yet it is precisely this lack of knowledge in God's final act (like our uncertainty in what happens to us after we die) that creates the condition which rewards those with the faith of but a mustard seed.
If we are to acquire that life giving faith, and get glimpses of the Father's divine plan, we must take a "big picture" view of our lives and the history of the world. This means letting go of human time and entering God time. With human time we focus on beginnings and ends, and see time as a product that can be saved, lost, and spent. And we view morality within the limits of those human constraints. But with God time we are dealing with a cyclical ebb and flow that cannot be pinned down—and where moral reckoning occurs on a timeline that far exceeds an individual lifetime.
Our life in Christ is beyond beginnings and ends—which is why Jesus says that he existed before Abraham2 and his words will live on even after heaven and earth pass away.3 The Holy Spirit constantly is in the process of rising and receding. This means that the crucifixion of our ego is not a one time affair. We are called to repeatedly lay down our lives,4 as we rise ever closer toward our divinity.
Jesus imparts this teaching of recurring crucifixion when he tells us that we must pick up our crosses daily.5 And our repeated rise toward Christ is demonstrated in the gospel story by Jesus's reappearance within the form of a person that his disciples do not recognize.6 When, during the course of our spiritual evolution, we shed our egos, even those closest to us often fail to recognize the new person we've become. The fact that Jesus chooses to crucify his ego yet again, having already risen in Christ and been able to teach the gospel, demonstrates that no matter how high we've risen the ego continually builds new obstacles that need to be overcome.
When we pray For thine is the kingdom, the power, and the glory, forever, amen, we are thus confirming our faith in today's living Christ;7 as well as God's divine plan that we, his children, can feel only intimations of but never fully know.8 As the 19th century Unitarian Minister Theodore Parker once said: "I do not pretend to understand the moral universe, the arc is a long one, my eye reaches but little ways. I can calculate the curve and complete the figure by the experience of sight; I can divine it by conscience. But from what I see, I am sure it bends toward justice."
You have been reading Chapter 12 from the book The Living Hour: The Lord's Prayer for Daily Life (with New Testament Gospels). This faith book on life and the power of the The Lord's Prayer is available for purchase in trade paperback below.
If you appreciate the work of LivingHour.org, please support us today by linking to our website. We also welcome your financial support. You can make your secure online donation via PayPal by clicking the following icon:
Buy the Trade Paperback for $15.99
Oh, Captain, My Captain! The film The Dead Poet's Society inspired a generation of young creatives with its refrain of "Carpe Diem" (seize the day). Robin Williams (aka Professor John Keating) urged his students to make your lives extraordinary while standing memorably before a school photograph of alumni who had long become "worm's meat".
Yet most of us live decidedly unextraordinary lives, while licking the wounds of our would-be greatness. Why does this happen? Well, it's because life is not the brass ring at a merry-go-round. It can't be seized and pulled to our breast, to have and to hold. Life is like water: as soon as we try to seize it, it fast slips through our fingers, leaving only the remnants of what we wanted it to be.
If we are to have a life mantra it should not be Carpe Diem (seize the day) but Suscipe Diem (accept the day)–welcome both the happiness and the sadness, the challenges and the blessings, the victories and the losses. This is the lesson of The Lord's Prayer, when we are called to pray "give us this day our daily bread." Our daily bread consists of all of life: all those experiences that make this moment in time such an extraordinary adventure, and which can make our lives extraordinary too, if we but accept each of the cards we are dealt, and don't fold our hands, cry cheat, or bet it all on a pair of deuces.
—
Gain fresh insight into the Lord's Prayer. Read our free online book The Lord's Prayer for Daily Life. The prayer's hidden teachings will enrich and inspire you. Click the following link to begin reading the Living Hour book now: The Lord's Prayer.
If you appreciate the work of LivingHour.org, please support us today by linking to our website. We also welcome your financial support. You can make your secure online donation via PayPal by clicking the following icon:
In this final installment of our special series on the Founding Fathers and their thoughts on God, Religion, & the Divine, we move to farmer, politician, and guerilla revolutionary leader Ethan Allen, who perhaps is best known for leading the Green Mountain Boys (and other fighters) in their raid and capture Fort Ticonderoga, a strategic victory which severely hampered communication between the northern and southern units of the British army.
Like Thomas Jefferson and Benjamin Franklin, Ethan Allen might be best described as a Progressive Christian Deist who believed reason must take a paramount place in religious activity. The following passage is taken from Section IV of Ethan Allen's book, Reason: The Only Oracle of Man (1784), and deals with the subject of prayer. In synch with the philosophy of prayer that guides our free book The Living Hour: The Lord's Prayer for Daily, Allen writes:
Whoever has a just sense of the absolute perfection of God, and of their own imperfection, and natural subjection to his providence, cannot but from thence infer the impropriety of praying or supplicating to God, for this, that, or the other thing; or of remonstrating against his providence: inasmuch, as "known to God are all our wants;" and as we know, that we ourselves are inadequate judges of what would be best for us, all things considered.
To pray for any thing, which we can obtain by the due application of our natural powers, and neglect the means of procuring it, is impertinence and laziness in the abstract; and to pray for that which God in the course of his providence, has put out of our power to obtain, is only murmuring against God, and finding fault with his providence, or acting the inconsiderate part of a child; for example, to pray for more wisdom, understanding, grace or faith; for a more robust constitution, handsomer figure, or more of a gigantic size, would be the same as tolling God, that we are dissatisfied with our inferiority in the order of being; that neither our souls nor bodies suit us; that he has been too sparing of his beneficence; that we want more wisdom, and organs better fitted for show, agility and superiority.
But we ought to consider, that "we cannot add one Cubit to our stature," or alter the construction of our organic frame; and that our mental talents are finite; and that in a vast variety of proportions and disproportions, as our Heavenly Father in his order of nature, and scale of being saw fit; who has nevertheless for the encouragement of intelligent nature ordained, that it shall be capable of improvement, and consequently of enlargement; therefore, "whosoever lacketh wisdom," instead of "asking it of God," let him improve what he has, that he may enlarge the original stock; this is all the possible way of gaining in wisdom and knowledge, a competency of which will regulate our faith. But it is too common for great faith and little knowledge to unite in the same person; such persons are beyond the reach of argument and their faith immovable, though it cannot remove mountains.
The only way to procure food, raiment, or the necessaries or conveniences of life, is by natural means; we do not get them by wishing or praying for, but by actual exertion; and the only way to obtain virtue or morality is to practice and habituate ourselves to it, and not to pray to God for it: he has naturally furnished us with talents or faculties suitable for the exercise and enjoyment of religion, and it is our business to improve them aright, or we must suffer the consequences of it. We should conform ourselves to reason, the path of mortal rectitude, and in so doing, we cannot fail of recommending ourselves to God, and to our own consciences. This is all the religion which reason knows or can ever approve of.
—
Gain fresh insight into the Lord's Prayer. Read our free online book The Lord's Prayer for Daily Life. The prayer's hidden teachings will enrich and inspire you. Click the following link to begin reading the Living Hour book now: The Lord's Prayer.
If you appreciate the work of LivingHour.org, please support us today by linking to our website. We also welcome your financial support. You can make your secure online donation via PayPal by clicking the following icon:
Press Release (6.13.09) The LivingHour.org has announced the addition of an SBNR & Progressive Christian Bookstore to its online activities. The new online bookstore for spiritual progressives is in association with Amazon.com, and will include fiction, poetry and non-fiction on various subjects. "We are looking to include in our booklist more than just the usual suspects read by Progressive Christians and the SBNR," says Pastor David, director of The Living Hour.
"Spiritual life in the 21st century should encompass everything: science, history, philosophy, pop culture, literature, etc., and (as Gandhi once said) we should all keep learning about these things as if we expected to live forever," explains Pastor David.
The first listing of books for Progressive Christians and the SBNR (Spiritual But Not Religious) include Jacques Barzun's fascinating history survey From Dawn to Decadence; psychologist Carl Jung's seminal work on the unconscious, The Undiscovered Self; theologian Paul Tillich's classic call to vocation, The Courage to Be; Michael Talbot's explosive unification of science and spirituality, The Holographic Universe; and Brenda Ueland's If You Want to Write, a book on art, independence, and living joyfully.
According to Pastor David, all of the books are chosen with the aim to help readers better understand the world and our place in it. In addition, every selection has been read by LivingHour.org and was picked not just for its brilliance but for its clear, crisp, and entertaining writing style. All are highly accessible and will challenge readers' perceptions in fesh and exciting ways. New books will be added weekly.
Video picks are also included at the bookstore, including cult director Hal Hartley's Book of Life (a comic retelling of the apocalypse, where Jesus arrives at JFK airport), and Eliseo Subiela's provocative Spanish film Man Facing Southeast (Hombre Mirando al Sudeste), about an enigmatic patient at a mental institution, who may or may not be from this world.
Also available from LivingHour.org is the website's free e-book The Lord's Prayer For Daily Life, with New Century Gospels, which provides new insight into Jesus's beloved prayer, as well as his parables and teachings.
To view The Living Hour's online bookstore please click the following link: SBNR & Progressive Christianity Bookstore.
The wolf in sheep's clothing is a favorite metaphor of the conservative Christian establishment in the United States. For centuries now they've used it whenever confronted by folks driven by compassion, love, and everything Jesus encapsulates so perfectly in The Lord's Prayer, but who don't subscribe to their own world view. It's no wonder then that the wolves in sheeps' clothing warning is trotted out increasingly by the Christian right these days, as Progressive Christianity secures a stronger foothold in American society.
All of this talk about wolves can be traced back to the Gospel of Matthew (7:15-16), where Jesus says, "Beware of false teachers: those who come to you in the guise of sheep, but at heart they are ravenous wolves. By the fruit of their lives you will know them." Jesus also gives us another clue to discern who these wolves might be. A few lines later in Matthew, he says, "Not everyone who says to me 'Lord! Lord!' will enter the kingdom of heaven, but only those who do the will of my Father who is in heaven."
That is the line which truly speaks volumes. There is an old saying that claims the Devil's greatest trick was convincing the world he doesn't exist. But that was not it. The Devil's greatest, most intelligent, trick is when he convinces Christians that they are benign sheep, when in their hearts they are the ravenous wolves, "winning souls for Jesus" by whatever means it takes, while manipulating the Gospel of Christ to suit their purpose–which is not to serve the will of our Father in Heaven (as they convince themselves), but the ego driven desire to be in the winner's circle. It is to these individuals that Jesus offers the warning: there are many who [think] they are first who'll end up last.1
—
The Living Hour's SBNR motivational series combines history, literature, philosophy, psychology, and religion to help bring about new perspectives on Progressive Christianity and spirituality. Sign up by entering your email address into the "Opening the Small Gate" box in the right corner of this web page.
"I choose to give to this last man the same as to you. 15 Have not I the right to do as I choose with what is mine? Are you envious because I am liberal? 16 So those who are last will be first, and the first last." – Matthew 20:15-16 [↩]
The book The Lords Prayer for Daily Life was written in a way that we hope appeals to both teens and adults, each group of readers being able to take certain lessons from it, or simply food for further thought. But what about the child?
The Lord's Prayer is the kind of prayer that children can learn at a young age, and it far surpasses that old standard: Now I lay me down to sleep; I pray the Lord my soul to keep. If I should die before I wake; I pray the Lord my soul to take–a prayer which makes children think that the Grim Reaper is going to descend upon them in their sleep.
To assist Progressive Christian parents we've taken inspiration from the material of The Living Hour book to write some thoughts on how you can teach the Lord's Prayer to your kids in a meaningful way, so that the act of childhood prayer goes beyond simple recitation. So, if you are asking how to teach the Lord's Prayer to children, here are our suggestions:
Our Father who art in heaven. Jesus begins the Lord's Prayer by letting us know that we are all in this together. God, the Father, is the father of all people. He is the father of people who we like and who we dislike; people who we agree with and who we disagree with; people who look like us and don't look like us; people who believe in him and who don't believe in him. By telling us that our one true Father is in heaven, Jesus is reminding as that we are all Sons and Daughters of God, and that our lives go on forever.
Hallowed be thy name. You know how when someone calls you by your name, it is like they think they know you? Well, Jesus doesn't tell us God's name in the Lord's Prayer because God is so big we can never know all of him. Jesus can describe God's name, though. He calls it hallowed. The word "hallowed" comes from the word "holy," which comes from the word "whole". Jesus wants us to see us and God always together as a whole being. We are not separate. We are one.
Thy kingdom come, thy will be done. Jesus teaches us in the Bible that the kingdom of God is within us and all around us right now. The problem is that we often don't see it. Because we don't see his kingdom, we end up making a lot of bad choices. When we make good choices though we are doing the will of God. We are making his kingdom come alive inside of us and in other people. That is why we should always try hard to make good choices and love each other.
On earth as it is in heaven. When people die they go to heaven, but when they live they go to heaven too. It is just that on earth, heaven (like the kingdom) is pretty hard to see sometimes. People hurt each other and do bad things. We get angry when we don't get what we want or when people are not nice to us. But Jesus wants us to know that if we can just let those bad feelings go and forgive people, the world can be a pretty wonderful place.
Give us this day our daily bread. We all need food to live, right? Well, in this part of the Lord's Prayer, Jesus also is talking about something that we need to live. But he is not talking about food. When Jesus taught he liked to use symbols. You know, like a smile is a symbol that you are happy. Jesus is using bread as a symbol of our experiences. Every day we have new experiences. These experiences can make us happy, sad, angry, or whatever. But we need them all, even if we don't like them all. Because every experience helps us grow.
And forgive us our trespasses, as we forgive those who trespass against us. We all makes mistakes. Sometimes we hurt the feelings of other people and don't even know it. In the Lord's Prayer, Jesus calls these things that we do wrong "trespasses". When we trespass the most important thing is to understand what we've done. Then to ask for forgiveness. If you forgive other people, then they are more likely to forgive you. It is no good to stay angry at someone. It doesn't feel good to be angry. When we get angry we just hurt ourselves. So, just forgive people, and you'll feel a whole lot better. You will also feel a lot better when they forgive you, too.
Lead us not into temptation, but deliver us from evil. When we talk to God, sometimes we are tempted to ask him for things we don't need. We pray to him for special favors. But with this line of the Lord's Prayer, Jesus is telling us that God is not our private wish factory. God already knows what we need, so we shouldn't be tempted to pray for stuff. We can though pray for him to protect us all from harm; to protect us from doing things that hurt ourselves and other people–that is what deliver us from evil means.
For thine is the kingdom, the power, and the glory, forever and ever, amen. Jesus ends the prayer with some great news. He tells us that God, our Father, has a great kingdom, has great power, and has great glory. It must be great because it lasts forever and ever. Why is this such great news? Because God shares all of this with his children. That means us! We can share in his kingdom, his power, and his glory, if we pray a lot, forgive a lot, love a lot, and treat others like we want to be treated.

If Jesus were a Zen teacher what might he say? Click on Zen to find out.
—-
The Lord's Prayer is a short prayer but one that is layered with meaning. Read our free online book The Lord's Prayer for Daily Life to begin discovering the prayer's hidden meanings. Click the following link to begin reading the Living Hour book now: The Lord's Prayer.
The Living Hour: The Lord's Prayer for Daily Life is an SBNR (Spiritual But Not Religious) book based on the belief that reason and faith must walk hand in hand. It is the perfect book for exploring your own spirituality, as well as teaching the Lord's Prayer to others. It will challenge your preconceptions and help you acquire new perspectives on The Lord's Prayer, Christianity, and a life of faith, while also encouraging you to ask new questions and seek fresh answers within the context of your own experience. The book is split into two parts: the Living Hour commentary and the New Century Gospels (Matthew, Mark, Luke, and John). You can purchase the hardcover or ebook versions safely and securely with PayPal or a credit card via the following links.
Buy the Trade Paperback from our Bookstore for $15.99

Buy the full PDF eBook Now for $3.99

Or purchase the multi-platform eBook edition (without the New Century Gospels included) for your iPad, Kindle, Palm Pilot, Sony Reader, Nook, iPhone, or other portable device for only $3.99 by clicking on the following link:
We would like to that E-junkie.com for providing its e-commerce services free of charge to LivingHour.org.
——–
About The Living Hour: The Lord's Prayer for Daily Life
The Living Hour is a modern meditation on the Lord's Prayer. It is written for progressive Christians, Unitarians, the SBNR (Spiritual But Not Religious), and people of all faiths. In teaching the Lord's Prayer, the Living Hour takes you below the surface meaning of Jesus's words and his larger teachings to discover fresh interpretations of the metaphors and parables contained in the Gospels.
The book's SBNR commentary is richly supported by over 200 Gospel book citations and is seasoned with contemporary cultural, psychological, and literary references. The work is thus perfect for discussion groups and progressive Bible study classes. You can also read the Lord's Prayer book online by clicking on the following chapters.
Part 1: Table of Contents
Chapter 1: Our Father who art in heaven
Understand our relationship to God
Chapter 2: Hallowed be thy name
Understanding God's identity
Chapter 3: Thy kingdom come
Understanding God's kingdom
Chapter 4: Thy will be done
Understanding God's will
Chapter 5: On earth, as it is in heaven
Understanding God's divide
Chapter 6: Give us this day
Gathering the moment at hand
Chapter 7: Our daily bread
Gathering our inheritance
Chapter 8: And forgive us our trespasses
Removing our hindrances
Chapter 9: As we forgive those who trespass against us
Removing our hindrances
Chapter 10: And lead us not into temptation
Removing our hindrances (Part II)
Chapter 11: But deliver us from evil
Overcoming our ego
Chapter 12: For thine is the kingdom, the power, and the glory, forever, amen.
Understanding God Time
The New Century Gospels
All great religious manuscripts and scripture (be they Christian, Buddhist, Taoist, Jewish, Muslim, Hindu, etc.) have transcendent and important things to teach us. The Gospel books of the New Testament are unique among such works in that they are so often talked about but so rarely read in their entirety.
The Living Hour: The Lord's Prayer for Daily Life includes the New Century Gospels. This is a contemporary version of the canonical Gospels (Matthew, Mark, Luke, and John) which uses the "Twentieth Century New Testament" as its primary resource. Subsequent edits were made after careful consideration of the King James' Bible and the current forms of modern English usage. The resulting text brings the story and teachings of Jesus to life for all readers, regardless of their faith.
1) Gospel of Matthew
2) Gospel of Mark
3) Gospel of Luke
4) Gospel of John
Teaching the Lord's Prayer to large groups? Contact us for a special discount of the paperback edition.
There have been many translations of The Lord's Prayer in hundreds of languages. But the one which perhaps is most fascinating to Christians is the translation in Aramaic, the language which Jesus spoke.
The following is an Aramaic translation of The Lord's Prayer, the prayer which Jesus taught his disciples when they asked him how to pray, the prayer which is the Rosetta Stone for understanding the Gospel of Jesus Christ.
The Lord's Prayer in Aramaic
Abwûn:
Oh Thou, from whom the breath of life comes,
d'bwaschmâja:
Who fills all realms of sound, light and vibration.
Nethkâdasch schmach:
May Your light be experienced in my utmost holiest.
Têtê malkuthach:
Your Heavenly Domain approaches.
Nehwê tzevjânach aikâna d'bwaschmâja af b'arha:
Let Your will come true – in the universe just as on earth
Hawvlân lachma d'sûnkanân jaomâna: Give us wisdom for our daily need,
Waschboklân chaubên wachtahên aikâna daf chnân schwoken l'chaijabên:
Detach the fetters of faults that bind us, (karma) like we let go the guilt of others.
Wela tachlân l'nesjuna:
Let us not be lost in superficial things,
Ela patzân min bischa:
But let us be freed from that what keeps us off from our true purpose.
Metol dilachie malkutha wahaila wateschbuchta l'ahlâm almîn.
From You comes the all-working will, the lively strength to act,
the song that beautifies all and renews itself from age to age.
Amên: Sealed in trust, faith and truth.
——–
What is the Lord's Prayer? It is a short prayer, but one that is filled with layers of esoteric meanings. Read our free online book The Lord's Prayer for Daily Life to begin discovering the prayer's hidden messages. Click the following link to begin reading the Living Hour book now: The Lord's Prayer.
If you would like to read The Lord's Prayer in a Latin translation, please go to: The Lord's Prayer in Latin.
There is a humorous story about an American congressman who, fighting for the sanctity of the English language, exclaimed that if English was good enough for Jesus Christ it's good enough for him! As most of us know, Jesus did not speak English. His native language was Aramaic. And the Gospel scriptures were written in Greek.
For those curious, the following is a Greek translation of the Lord's Prayer, the prayer which Jesus taught his disciples when they asked him how to pray, the prayer which is the Rosetta Stone for understanding the Gospel of Jesus Christ.
ΠΑΤΕΡ ΗΜΩΝ Ο ΕΝ ΤΟΙΣ ΟΥΡΑΝΟΙΣ
ΑΓΙΑΣΘΗΤΩ ΤΟ ΟΝΟΜΑ ΣΟΥ
ΕΛΘΕΤΩ Η ΒΑΣΙΛΕΙΑ ΣΟΥ
ΓΕΝΗΘΗΤΩ ΤΟ ΘΕΛΗΜΑ ΣΟΥ,
ΩΣ ΕΝ ΟΥΡΑΝΩ ΚΑΙ ΕΠΙ ΤΗΣ ΓΗΣ
ΤΟΝ ΑΡΤΟΝ ΗΜΩΝ ΤΟΝ ΕΠΙΟΥΣΙΟΝ
ΔΟΣ ΗΜΙΝ ΣΗΜΕΡΟΝ
ΚΑΙ ΑΦΕΣ ΗΜΙΝ ΤΑ ΟΦΕΙΛΗΜΑΤΑ ΗΜΩΝ,
ΩΣ ΚΑΙ ΗΜΕΙΣ ΑΦΙΕΜΕΝ ΤΟΙΣ ΟΦΕΙΛΕΤΑΙΣ ΗΜΩΝ
ΚΑΙ ΜΗ ΕΙΣΕΝΕΓΚΗΣ ΗΜΑΣ ΕΙΣ ΠΕΙΡΑΣΜΟΝ,
ΑΛΛΑ ΡΥΣΑΙ ΗΜΑΣ ΑΠΟ ΤΟΥ ΠΟΝΗΡΟΥ.
ΑΜΗΝ.
For those who cannot read Greek. Here is a transliteration of the above text.
Pater hêmôn ho en toes ouranoes;
hagiasthêtô to onoma sou;
elthetô hê basileia sou;
genêthêtô to thelêma sou,
hôs en ouranô, kae epi tês gês.
ton arton hêmôn ton epiousion dos hêmin sêmeron;
kae aphes hêmin ta opheilêmata hêmôn,
hôs kae hêmeis aphiemen toes opheiletaes hêmôn;
kae mê eisenenkês hêmas eis peirasmon,
alla rhysae hêmas apo tou ponerou.
hoti sou estin hê basileia kae hê dynamis kae hê doxa eis tous aeônas;
amên.
Gain fresh insight into the Lord's Prayer & how God is with us today. Read our free online book The Lord's Prayer for Daily Life. The prayer's hidden teachings will enrich and inspire you. Click the following link to begin reading the Living Hour Book now: The Lord's Prayer.
If you would like to read The Lord's Prayer from the King James version of The New Testament, please go to: The Lord's Prayer in King James English.
It really is a shame that we no longer teach Latin in our schools, for Latin has a grace, beauty, and music that English has a difficult time rivaling. This is not to say that Latin is better than English, only that each language has different strong points; and gracefulness is one area where Latin usually triumphs.
The following is a Latin translation of The Lord's Prayer , the prayer which Jesus taught his disciples when they asked him how to pray, the prayer which is the Rosetta Stone for understanding the Gospel of Jesus Christ. We suggest that it be read it out loud for full appreciation.
PATER noster, qui es in caelis,
sanctificetur nomen tuum.
Adveniat regnum tuum.
Fiat voluntas tua, sicut in caelo et in terra.
Panem nostrum quotidianum da nobis hodie,
et dimitte nobis debita nostra sicut
et nos dimittimus debitoribus nostris.
Et ne nos inducas in tentationem, sed libera nos a malo.
Amen.
Gain fresh insight into the Lord's Prayer & how God is with us today. Read our free online book The Lord's Prayer for Daily Life. The prayer's hidden teachings will enrich and inspire you. Click the following link to begin reading the Living Hour Book now: The Lord's Prayer.
If you would like to read The Lord's Prayer in a German translation, please go to: The Lord's Prayer in German.
The Lord's Prayer played a strong role in the services and worship of the Germans who settled in Pennsylvania. Pastor David, the director of LivingHour.org, numbers his ancestors among these German settlers. In homage to them, we offer a Pennsylvania Dutch (Deutsch) translation of The Lord's Prayer, the prayer which Jesus taught his disciples when they asked him how to pray. It is this prayer that Jesus advises us to pray instead of making requests for specific things, as God already knows what we need.
The Lord's Prayer
Unsah Faddah im Himmel,
dei nohma loss heilich sei,
Dei Reich loss kumma.
Dei villa loss gedu sei,
uf di eaht vi im Himmel.
Unsah tayklich broht gebb uns heit,
Un fagebb unsah shulda,
vi miah dee fagevva vo uns shuldich sinn.
Un fiah uns naett in di fasuchung,
avvah hald uns fu'm eevila.
[Fa dei is es Reich, di graft,
un di hallichkeit in ayvichkeit.
Amen.]
Gain fresh insight into the Lord's Prayer & how God is with us today. Read our free online book The Lord's Prayer for Daily Life. The prayer's hidden teachings will enrich and inspire you. Click the following link to begin reading the Living Hour Book now: The Lord's Prayer.
To read The Lord's Prayer in a Greek translation, the language in which the New Testament was written, please go to: The Lord's Prayer in Greek.
German theologians such as Paul Tillich and Gerhard Ebeling have had a tremendous impact on what we call the Progressive Christian movement today, their works being as vital and contemporary now as when they were written.
In tribute to them and other German theologians, we offer the following German translation of the Lord's Prayer, the prayer Jesus taught his disciples when they asked him how to pray, the prayer that is the Rosetta Stone for understanding the Gospel of Jesus Christ.
The Lord's Prayer
Vater unser im Himmel,
geheiligt werde dein Name.
Dein Reich komme.
Dein Wille geschehe,
wie im Himmel so auf Erden.
Unser tägliches Brot gib uns heute.
Und vergib uns unsere Schuld,
wie auch wir vergeben unsern Schuldigern.
Und führe uns nicht in Versuchung,
sondern erlöse uns von dem Bösen.
[Denn dein ist das Reich und die Kraft
und die Herrlichkeit in Ewigkeit.
Amen.]
Gain fresh insight into the Lord's Prayer & how God is with us today. Read our free online book The Lord's Prayer for Daily Life. The prayer's hidden teachings will enrich and inspire you. Click the following link to begin reading the Living Hour Book now: The Lord's Prayer.
If you would like to read The Lord's Prayer in Pennsylvania Deutsch/German, please go to: The Lord's Prayer in Pennsylvania Dutch.