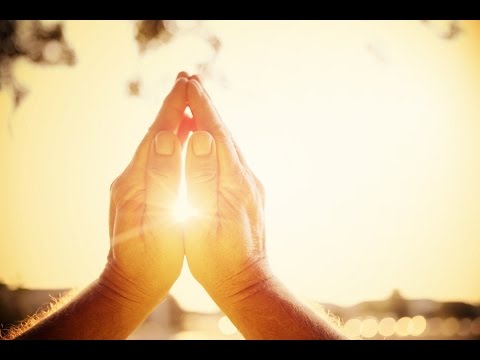 Chapter 1
Our Father who art in
heaven…
(Understanding Our Relationship to God)
The Lord's Prayer begins with an idea that seems easy enough to understand. Jesus wants to establish God as our heavenly Father, and we as his children. What we often fail to notice though is what Jesus doesn't say—yet what he leaves out is just as important. What Jesus doesn't say is that we should pray to God as "My Father." We are taught to address him as "Our Father" because prayer is not about individualism. It is not a private wish factory,1 churning out favors so that we can escape the hardships of life. Its purpose is to bring us together:2 to bring unity to our relationship with God and his creation.3
But why does Jesus describe God as a father figure? Why not "Our Mother" or "Our Creator"? Or why not just say "Our God"? Before trying to answer this, we need to recognize that our lives are defined by our relationships: the good and the bad. The roads we've taken have been paved by the arguments, joys, sadness, and desires we've shared with our family and friends. These roads though frequently do not lead to Christ or the kingdom of God.4 So Jesus demands that we tear them up.
He challenges us to hate our fathers, mothers, brothers, and sisters, and abandon the life we've come to know.5 It's an alarming request. If a preacher ordered his followers to do that today, we would call him a cult leader or religious crackpot. So what are we to make of this demand?
It's doubtful that early Christians manufactured this teaching, since it directly opposes the Mosaic law of honoring thy parents. Yet the message seems to clearly contradict Christ's gospel of love.6 Why are we to love our neighbors as ourselves but then hate our families? Let's first step back for a moment and consider Jesus's larger teaching methods. After all, this isn't the only time in the Gospels that he makes demands that seem outlandish or unrealistic. For example, how many of us are really prepared to sell our possessions and give everything to the poor?7
As a spiritual teacher, Jesus had a keen understanding of human nature and the mind. He knew that most of his followers lived hopelessly one sided lives—their attachments to material things and family always seeking primacy. It is no different with us today. So to break these attachments, Jesus plays a clever psychological game. He demands our exact opposite behavior: in other words, hating our parents (while loving God alone); and abandoning our worldly goods (while earning treasures in heaven).
But we have to remember that this is only a temporary mind game. Jesus doesn't expect us to turn our backs on our families forever or take vows of abject poverty. His hope is that these harsh commands will serve as an internal baptism of fire.8 And that as the flames rise up, they will be doused with the living water of the Holy Spirit,9 so that we will emerge from the ashes as harmonious new creations—instinctively knowing what things to render Caesar and what things to render God.10
To bring this new being to term, Jesus couldn't refer to God simply as an abstraction. He had to make God tangible to us in a very human way—that is, as a parent. He also had to contend with Old Testament scripture. In matters related to "religion," Jesus knew a lighter touch was needed than that which he used when dealing with our earthly attachments. For example, even though he turns many Mosaic laws on their head, his ministry wouldn't have gotten very far had he gone around telling Israel to hate the prophets. He also couldn't ignore the wisdom contained in Jewish scripture.11
So Jesus hit upon an ingenious solution. He told his followers that…
The Lord's Prayer. To continue reading, click on page 2 at the bottom.
There have been discussions recently among Progressive Christians about what does (or should) ministry include. The question is being posed a bit incorrectly. The question should be, "What does ministry NOT include?" Because when we begin to think about it from this vantage point, we start to realize that there are no good works, no vocations, and no discussions that are beyond the province of Progressive Christian Ministry.
Let's return again to Henry David Thoreau. The famous 19th century transcendentalist once wrote: That which we are, we are all the while teaching. This sounds like something Jesus might say. For when we are in Christ, and following the path of love, patience, and diligence, it does not matter the work we are doing (be it carpentry, teaching, chemistry, or waiting tables), we are performing a ministry through the example of who we are. But when we lash out in anger, rush through jobs impatiently, or judge those around us harshly, our Christian ministry stops dead in its tracks.
For the Progressive Christian, there should be no division between ministers and lay people. In Christ, the reverend and the software developer are both ministers. We are all meant to be ministers and stewards of each other's divinity, as well as the unique skills and talents that God grants us. Finding and developing those skills is a ministry in itself, a ministry to the Christ in us. Applying those skills through good works, and in a loving manner, is another ministry, one offered to the world at large. But these are not the only ministries. Ministry does not stop when "the work" stops. It continues on through each and every aspect of our lives: from the ways we deal with friends and family to the ways we play and express our joy. So to paraphrase Thoreau, That which we are, is a ministry we are all the while teaching.
To read about the suggested role of the Progressive Christian Pastor in today's church, please go to: The New Reverend's Role.
"I have spoken to you in this way so that you may not falter. 2 They will expel you from their synagogues; indeed the time is coming when anyone who kills you will think that they are making an offering to God. 3 They will do this, because they have not learned to know the Father, or even me. 4 But I have spoken to you of these things that, when the time for them comes, you may remember that I told you about them myself. 5 I did not tell you all this at first, because I was with you. But now I am to return to him who sent me; and yet not one of you asks me: 'Where are you going?'"
6 "Although your hearts are full of sorrow at all that I have been saying to you. 7 Yet I am only telling you the truth; it is for your good that I should go away. For otherwise the Helper will never come to you, but, if I leave you, I will send him to you. 8 And he, when he comes, will bring conviction to the world as to sin, and as to righteousness, and as to judgment; 9 As to sin, for people do not believe in me; 10 As to righteousness, for I am going to the Father, and you will see me no longer; 11 As to judgment, for the spirit that is ruling this world has been condemned."
12 "I have still much to say to you, but you cannot bear it now. 13 Yet when the Spirit of Truth comes it will guide you into all truth; for it will not speak on its own authority, but it will speak of all that it hears; and it will tell you of the things that are to come. 14 It will honor me; because it will take of what is mine, and will tell it to you. 15 Everything that the Father has is mine; that is why I said that he takes of what is mine, and will tell it to you. 16 In a little while you will no longer see me; and then in a little while you will see me indeed."
17 At this, some of his disciples said to one another: "What does he mean by saying to us: 'In a little while you will not see me, and then in a little while you will see me indeed'; and by saying 'Because I am going to the Father'? 18 What does he mean by 'In a little while'?" they said; "we do not know what he is speaking about."
19 Jesus saw that they were wanting to ask him a question, and said: "Are you trying to find out from one another what I meant by saying: 'In a little while you will not see me; and then in a little while you will see me indeed'? 20 In truth I tell you that you will weep and mourn, but the world will rejoice; you will suffer pain, but your pain shall turn to joy."
21 "A woman in labor is in pain because her time has come; but no sooner is the child born, than she forgets her trouble in her joy that a baby has been born into the world. 22 You, in the same way, are sorry now; but I shall see you again, and your hearts will rejoice, and no one will rob you of your joy. 23 And at that time you will not ask me anything; in truth I tell you, if you ask the Father for anything, he will grant it to you in my name. 24 So far you have not asked for anything in my name; ask, and you will receive, so that your joy may be complete."
25 "I have spoken to you of all this in proverbs; a time is coming, however, when I shall not speak any longer to you in proverbs, but shall tell you about the Father plainly. 26 At that time you will ask in my name; and I do not say that I will intercede with the Father for you; 27 For the Father himself loves you, because you have loved me, and have believed that I came from the Father. 28 I came out from the Father, and have come into the world; and now I am to leave the world, and go to the Father."
29 "At last," exclaimed the disciples, "you are using plain words and not speaking in proverbs at all. 30 Now we are sure that you know everything, and need not wait for anyone to question you. This makes us believe that you did come from God." 31 "Do you believe that already?" Jesus answered.
32 "Listen! A time is coming—indeed it has already come—when you are to be scattered, each going his own way, and to leave me alone; and yet I am not alone, because the Father is with me. 33 I have spoken to you in this way, so that in me you may find peace. In the world you will find trouble; yet, be of good cheer! I have conquered the world."
To read the next chapter of the Book of John, please go to The Gospel of John – 17.
This Online New Testament Gospel of John is excerpted from the book The Living Hour: The Lord's Prayer for Daily Life (with New Century Gospels). Including over 200 bookmarked citations from the canonical Gospels, this Progressive Christian book appeals to the Unitarian spirit at the heart of all faiths.
Challenge your perceptions on the Gospel of Christ, Jesus's parables, and the Kingdom of God by purchasing The Lord's Prayer book today. Produced by LivingHour.org, a Thailand-based small press dedicated to publishing unique Learning Easy Thai Language Books, as well as works on progressive spirituality.